Send Mail to Vendor
By using this facility, you can send mail to a single vendor at a time and communicate the discrepancies in invoices. Here you will get pre-drafted mail and this mail body is editable. Also in one go, you can send 200 invoices.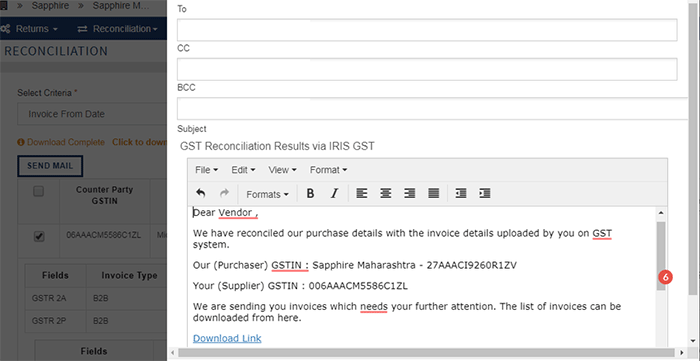 Bulk Mail to Vendors
Bulk mail facility you can use if you want to send data to more than one vendor in one go. So here first you need to apply counterparty filter for at least 2 and maximum 20 vendor GSTIN in one go. Here it is also important to have vendor master uploaded on IRIS Sapphire. Then only you will able to use this bulk mail functionality.
Also bulk mail history is available from there you can check details like who send mail, to which counterparties and what all filters are applied while sending data.

Bulk Mail History screenshot