Navigating Through Sapphire
Once you logged in IRIS Sapphire, on the top right-hand corner you will get the "Insights" tab.

Click on "Insights" to view reports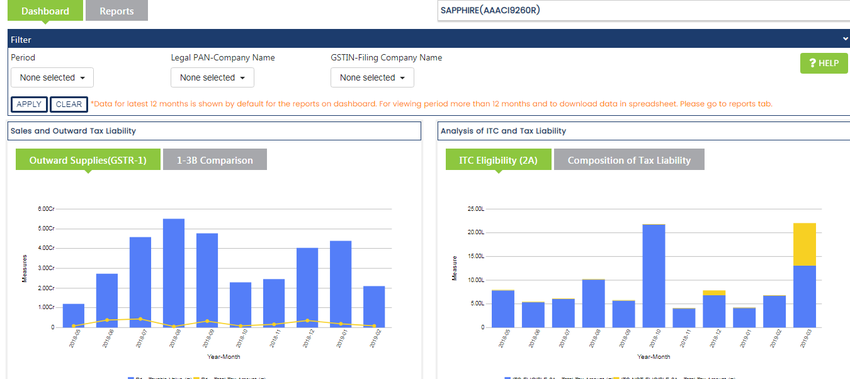 Dashboard
Here on Insight's Dashboard, you will get pre-defined visual representation for some important reports like:
Sales and Outward Tax Liability
• Outward Supplies – Provide insights of a trend of outward supplies over periods.
• 1 – 3B Comparison – Provide a comparative view for taxable values and tax amounts provided in GSTR 1 and GSTR 3B for outward supplies.
Analysis of ITC and Tax Liability
• ITC Eligibility (2A) – Provides details of tax amounts for which ITC eligible or not as per GSTR 2A auto-populated data.
• Composition of Tax Liability– Provides details of tax liability bifurcation between outward supplies and inward supplies liable to reverse charge based on details provided in GSTR 3B.
Also, the filter facility is available. Based on filters i.e. Period, Legal PAN and GSTIN, you can view insights. Based upon your access rights you can view GSTIN in the filter drop down.
Note – Data for the latest 12 months is shown by default for the reports on the dashboard. For viewing data more than 12 months and to download data in a spreadsheet, go to reports tab.