GSTR 2X Actions
In GSTR 2X all data related TDS and TCS credit will get auto-populated from GSTN based on GSTR 7 and GSTR 8 filed by your counterparties.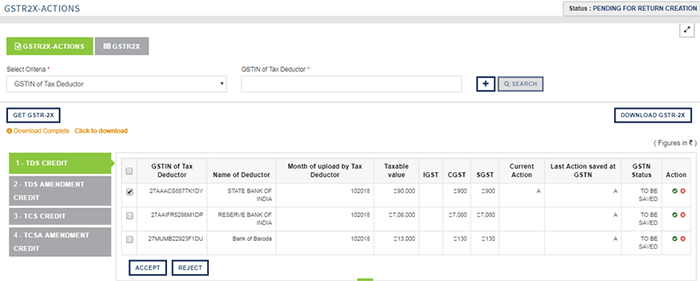 Follow the process as follows:
1. Select GSTIN from the hierarchy
2. Select return GSTR 2X from the drop down
3. Select Filing period for which you want to file GSTR 2X return
4. Now in GSTR 2X Action tab -> click on Get GSTR 2X button. So that TDS and TCS credit with amendments will get auto-populated from GSTN.
5. You can see all auto-populated data section wise like TDS Credit, TDS Credit Amendment, TCS credit and TCS Credit Amendment.
6. Now take actions on auto-populated data. "Accept" and "Reject" these two actions are allowed.
Facility for taking action on a bulk basis is available. Select more than one records and click on accept or reject button given at the bottom of the page. Also, Facility of download GSTR 2X is available.
Once you have taken actions on all records, now go to Create GSTR 2X.