Automated, Integrated
and Seamless e-Invoicing Solution
A one-stop e-invoicing solution that can integrate with your billing systems seamlessly in multiple ways and generate IRN with zero disruption to your business.
Generate e-Invoice
Ability to get e-invoices generated from one or multiple internal billing systems
Get IRN Seamlessly
Process of getting IRN should be seamless and zero disruption to continue business as-is
Bridge Data Gaps
Bridging the data gaps, if any, for meeting e-invoicing compliance needs
Prepare for Future
Comprehensive and future proof approach to cater to existing as well as upcoming compliance requirements
IRIS ONYX
All in one- E-invoice tool for your entire team
Recognized Name
An IRIS offering, a brand in GST compliance trusted by large business houses
Multiple Integration options
Range of integration options to choose from which helps you to align e-invoice as per your business process
Integrated Offering
IRIS Onyx offers seamless integration of e-invoicing, eway bill and gst compliance for smoother business operations
Easy Monitoring
Operate at PAN or place of business levels under GSTIN, flexibility to operate at micro level and monitor at macro
Hassle-Free Data Integration
You send us the data, the technical complexities of encrypt, decrypt and manage sessions for all you GSTINs we'll do
Future- proof
Facilitating audit by storing /archiving all the historically signed data
IRISGST's E-Invoicing Solution, GST Software and EWay Bill tool are powerful alone – but they are even better together.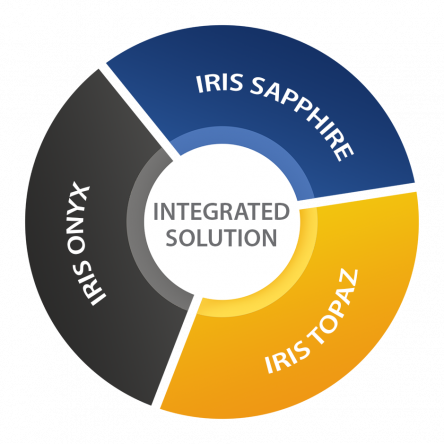 E-Invoicing aka Electronic Invoicing is an electronic authentication mechanism under GST. Under the mechanism, all the B2B invoices generated by a business (agg. turnover >=100cr INR) will have to be authenticated on the GSTN portal, electronically. Furthermore, to manage these invoices, the Invoice Registration Portal (IRP) will issue a unique identification number – Invoice Registration Number (IRN) for every invoice.
The mandate comes into effect from 1st October 2020 and the businesses need to be prepared for the e-invoicing mandate. While mainly perceived as technical change and low impact for business users, the organisations need to take some key decisions for integrating e-invoicing in their routine business operations without major disruptions.
We have prepared a comprehensive e-book that aims to cover the contours of e-invoicing in India, impact on businesses and IT systems, the key decisions to be taken and some recommendations for being future-ready.
E-invoice New API Specification has been released today in line with the updated e-Invoice standard fields released early Feb 2020.
Request a demo to learn more about how we can help you in e-invoicing implementation