Multi-Vehicle Update
This new action button has been introduced wherein the consignment of one e-way bill has to be moved in multiple vehicles, after moving to transshipment place. So if your goods, you want to transport through multiple vehicle after transshipment, then you need to use this multi-vehicle update option.
So firstly select E-way bills for which goods are now you want to send through multi vehicles. And click on multi-vehicle update action button in Action Column or button given in the top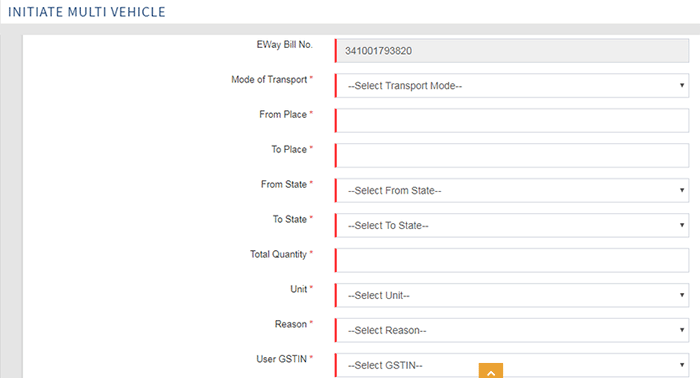 Here you need to provide details like –
1. E-Way Bill No. – This will get auto-populated based on E-way bill selected for Multi-Vehicle Update
2. Mode of Transport – Select mode of transport i.e. Road/Rail/Air/Ship
3. From Place – Provide from place details
4. To Place – Provide to place details
5. From State – Provide from state details
6. To State – Provide to state details
7. Total Quantity – Provide total quantity that you want to transport
8. Unit – Select unit from drop-down.
9. Reason – Select reason for choosing multi-vehicle update
10. User GSTIN – Select GSTIN from drop down for which this e-way bill relates
11. Place of Business – Select POB from drop down related to selected GSTIN
12. Remarks – Provides remarks if any
Once you initiated a multi-vehicle update, you will get a group number.

Now while updating part B i.e. update vehicle details you need to use this group no. and provide vehicle no.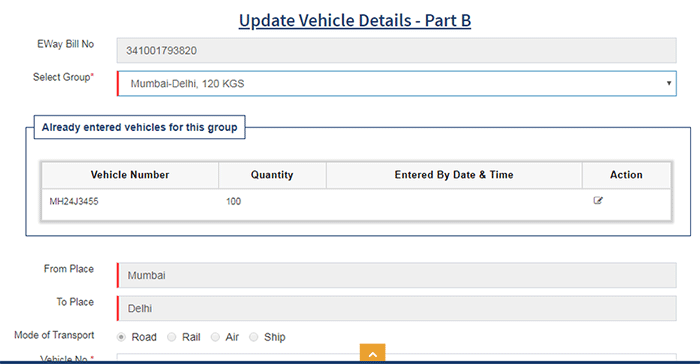 Points to note:
1. If there is more than one UQC in invoice then provide the UQC of major items in first multi-vehicle option initialization.
2. Provide the Total quantity in first multi-vehicle option initialization.
3. For creating new groups after creation of 1st group, Unit Code has to match with unit code of first initiation and Total quantity should be equal to or less than with total quantity of first initiation