The feature of extending validity for E-way bill generated is also available here for E-way bills in bulk or as individual. If you want to extend the validity for single e-way bill, then click on the last icon given in Action column.

If you want to extend validity for more than one e-way bill, then select all those e-way bills and click on "Extend validity" button given on top.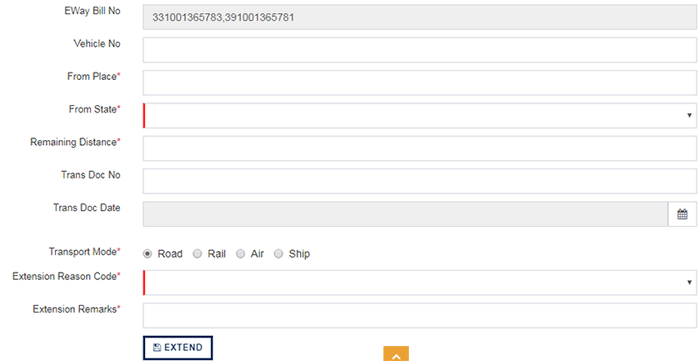 Following details need to be provided:
E-way Bill No. –  This will get auto-populated based on E-way bills selected for extension by you
Vehicle No. – Provide vehicle no.
From Place* – Provide from place address
From State* – Provide from state details
Remaining Distance* – Provide approx distance remaining
Trans Doc No. and Date – Provide trans document number and date
Transport Mode* – Select transport mode as road/rail/air/ship
Extension Reason Code* – Select extension reason from the drop down
Extension Remarks* – If extension reason is provided as "Other", then it is mandatory to provide extension remarks.
After providing details, click on "EXTEND". This will complete the process of extending the validity of EWB.