A lot of new notifications and updates on the GST front have been released this month. Since this is the last quarter of the year 2020 and e-invoicing will be made mandatory for taxpayers with an aggregate turnover of over Rs. 100 Cr. from Jan 2021, a lot more changes are expected soon. Here, we have compiled all the big GST News updates from November for your reference. So let's dive straight in…
Here is the Top GST News for the month of November 2020:
Important GST Notifications released in November 2020
GST Notification 81/2020-Central Tax, dated. 10-11-2020: The new provisions of section 39 of the Central Goods and Services Tax Act, 2017 shall come into force from 10th Nov 20.
GST Notification 85/2020-Central Tax, date. 10-11-2020: CBIC notifies procedure to opt Quarterly GSTR 3B
GST Collection – October 2020
The total GST revenue collected in October 2020 is Rs. 1,05,155 crore of which Central Goods and Services Tax (CGST) is Rs. 19,193 crore, State Goods and Services Tax (SGST) is Rs. 25,411 crores, Integrated Goods and Service Tax (IGST) is Rs. 52,540 crores (including Rs. 23375 crores collected on import of goods) & Cess is Rs. 8,011 crores (including Rs. 932 crores collected on import of goods).
Updates on GST Compliance:
Auto-populated Form GSTR 3B (PDF) to be made available for the taxpayers, from the month of October 2020 onwards.
Staggered filing of Form GSTR 3B for the tax periods from October 2020 till March 2021.
CBIC enabled auto-population of e-invoice details into GSTR-1
Quarterly Return filing & Monthly Payment of Taxes (QRMP) Scheme has been introduced for the taxpayers below the turnover of Rs. 5 Cr
GST portal has been scaled up to handle 3 lakh taxpayers concurrently.
The finance ministry on Friday said taxpayers are required to report in the annual GST return of 2018-19 only the values of transactions pertaining to that financial year.
GSTN has also issued the Taxpayers guide to GST Errors and Solution.
E-Way Bill Updates
The GST Network plans to activate an automated system from 1st December 2020 that will block the generation of E-way Bills for non-filers of monthly GST return form GSTR-3B, irrespective of turnover limits.
E-invoicing Updates:
From 1st Jan 2021, the Government has made it mandatory for the taxpayers with aggregate turnover exceeding Rs. 100 Cr. (in any preceding financial year from 2017-18 onwards) to prepare e-invoice – Invoice with QR Code as per the Notification: 88/2020-Central Tax dated 10.11.2020.
As per sources, the Government plans to implement e-invoice for less than 100 Rs. Cr turnover companies as well in a few months time. As per Finance Secretary, monthly GST filing will not be necessary after the e-invoice system is in place.
GSTN on 16th Nov issued an advisory on e-invoicing for 100 CR companies and the way forward.
Other GST News
Puducherry, Rajasthan, Telangana, Kerala and West Bengal- have opted for Centre's Option-1 to meet the revenue shortfall arising out of Goods and Services Tax (GST) implementation.
The government proposes to match the GST data mentioned in Form 26AS with the turnover numbers provided by taxpayers while filing income tax returns. IT profiling to help revenue dept nab fraudsters claiming fake GST credits however no extra compliance burden on taxpayers for GST turnover displayed in Form 26AS.
The law committee of the GST Council has provided its recommendations with an aim to tighten compliance measures including the use of Aadhaar or Aadhaar-like biometric identification for new registrations, steps to identify businesses that pose a risk of revenue loss to the exchequer, use of income tax returns to verify the credentials of entrepreneurs seeking GST registration, and restriction on using tax credits from the purchase of raw materials to meet the final tax liability.
Finance Ministry extends last date for filing applications under SVLDR Scheme for UT of Jammu & Kashmir and Ladakh.
*****
E-invoicing has been the most important news for this month. The e-invoicing mandate goes LIVE for taxpayers with turnover more than Rs. 500 CR from October 1, 2020. Few important e-invoicing notifications were released to clarify that taxpayers who have crossed Rs. 500 CR turnover in any FY after 2017 are to be covered under e-invoicing. This has been a revolutionary step towards transparency and embracing technology. This is a GST news highlight for the month and yes, the recent GST Council Meeting also brought in a lot of new changes. We have compiled the list of top GST news and updates for the month here:
Here is the Top GST News for the month of October 2020:
Important GST Notifications released in October 2020
GST Notification 73/2020-Central Tax , dated 01-10-2020: 30 days of time period allowed generating IRN for any invoice prepared between 01.10.2020 to 31.10.2020.
GST Notification 74/2020-Central Tax, dated 15.10.2020: Due dates of GSTR 1 Quarterly returns for tax period Oct 20 to Mar 21 is notified to be 13th of month following the quarter.
GST Notification 75/2020-Central Tax, dated 15.10.2020: Due dates of GSTR 1 Monthly returns is notified for tax period Oct 20 to Mar 21.
GST Notification 76/2020-Central Tax, dated 15.10.2020: Due date of filing GSTR 3B for tax period Oct 20 to Mar 21 notified to be 20th, 22nd, 24th of following month based on turnover and States / UT's.
GST Notification 77/2020-Central Tax, dated 15.10.2020:
GST Notification 78/2020-Central Tax, dated 15.10.2020: For a taxpayer with turnover up to Rs. 5 Cr. mention 4 digit HSN Code and for turnover above Rs. 5 Cr. mention 6 digit HSN Code.
42nd GST Council Meeting – Expectations and Highlights
The 42nd GST Council Meeting was held on October 5th, 2020 chaired by Union Finance Minister Nirmala Sitharaman, via video conferencing. The meeting was attended by Shri. Anurag Thakur, Union Minister of State for Finance & Corporate Affairs besides Finance Ministers of States & UTs and Senior officers from Union Government & States.
Read the highlights here: 42nd GST Council Meeting 
Other Important GST Updates of the Month
Temporary Relief on E-invoicing: The government offered a temporary relief on E-Invoicing and QR Codes have been deferred on consumer invoices by 2 months i.e. till December 1, 2020. And for companies with a turnover more than Rs. 500 have also been given a temporary relief if they are not fully prepared for e-invoicing
Extension of Annual Return Due-Date FY19: The government extended the due-date for filing the Annual Return in GSTR-9 and GSTR 9C for 2018-19 by 1 month. Now the extended timeline is from 30.09.2020 to 31.10.2020.
Government announces 4% Growth in GST: After witnessing 6 months of steady decline the economy saw an upward trend. In September, the GST collections rose 4% to Rs 95,000 cr. So, the government is hopeful that the market will slowly returning to the pre-COVID levels.
GSTN clarified that carrying physical invoice copies is not required: Again a big relief to companies while movement of goods, the physical invoice copy is not mandatory but an electronic copy with the QR Code is needed for verification.
Small businesses can file their GST returns on quarterly basis: Government simplified filing returns for small businesses by allowing them to only file their returns quarterly. So, companies with aggregate annual turnover of less than Rs 5 cr. can file returns on a quarterly basis with monthly payments from January 1, 2021.
Sub-rule (4) of Rule 36 of CGST Rules, 2017: Clarification regarding the application of sub-rule (4) of Rule 36 of CGST Rules, 2017 for the months of February 2020 to August 2020 was provided by the GSTN.
Blocking EWB Generation: The decision was made to block the E-way Bill or EWB generation facility for taxpayers having AATO over ₹ 5 Crores after 15th October 2020.
Regarding the new GST Return GSTR 2B: GSTN tweeted saying that the new return – 'GSTR-2B' for ITC Period September 2020 has been generated and is made available on the GST Portal.
Extension of GSTR 1/GSTR 3B: The facilities extended to the companies for filing GSTR 1/GSTR 3B with the EVC in place of DSC will be withdrawn from 1st November 2020 onwards.
Filing NIL GST of CMP-08: Filing Nil GST CMP-08 Form statement by SMS facility has been made available on the GST Portal.
Here is the Top GST News for the month of September 2020
The month of September had quite a few major changes and updates on the GST front. Let us go through all the top updates from the month of September 2020:
1.Important GST Notifications released in September 2020: 
1.1 Due date for GSTR-9 and GSTR 9C extended
Since GST annual compliance date was coinciding with implementation of e-invoicing, it was very difficult for taxpayers to manage both timely. Thus, there was a last moment announcement that the Due date for GSTR-9 and GSTR 9C was extended till October 31
Notification 69/2020-Central Tax – 30.09.2020 – Due date of GSTR 9/9C extended for FY 2018-19 to 31.10.2020
1.2 E-Way Bill Notification
CBIC has extended the time limit to 31st Oct, 2020 for issuing invoices in case of goods being sent or taken out of India on approval for sale or return, which falls during the period from March 20, 2020, to October 30, 2020 | GST Notification 66/2020.
Notification 66/2020-Central Tax ,dt. 21-09-2020- E-Way Bill Notification
1.3 E-invoicing notifications:
Here is a summary of all the notifications related to e-invoicing released in September 2020
2. GST Council Meeting and Compensation Cess
The centre had given two options in the 41st GST Council Meeting to the states to meet the shortfall of the compensation cess. Here are the options:
Option I: The centre can aid Rs 97,000 crore to states as borrowings, through a special window by the RBI. This money can be repaid after 5 years on the collection of cess along with paying a reasonable rate of interest.
Option II: Option two is that the states can borrow Rs 2,35,000 crore directly from the RBI.
The states had to evaluate both these options and choose one. In the 42nd GST Council meeting, the decision was made to extend Compensation Cess levy beyond June 2022. Compensation of ₹ 20,000 crores to be released to States towards loss of revenue during 2020-21. Additionally, an amount of approx. ₹ 25,000 CR towards IGST of 2017-18 was to be released soon.
3. GST Collection – September 2020
The GST collections in September amounted to Rs. 95,480 crore. Out of Rs 95,480 crore, Rs 17,741 crore is Central GST; Rs 23,131 crore is State GST; and Rs 47,484 crore Integrated GST, including Rs 22,442 crore collected on import of goods while Rs 7,124 crore is Cess, including Rs 788 crore on import of goods.
4. Important AAR/Orders/Judgements released in September 2020
Delhi High Court rejects plea challenging 5% GST on all varieties of fabrics.
GST to be imposed on wellness centres depending on services offered
ITC can be availed on Equipment, Furniture, Reagents/consumables used for Performing Test
18% GST is applicable on Plastic Mechanical Liquid Dispenser
Patrator liable to take GST Registration and pay GST on Supply of Goods and Services
AAR ruled that 5% GST is not applicable on local transportation services.
No GST on Scanning OMR Flying Slip, Marks Foil, Attendance Sheet etc. provided to Educational Institution
The Karnataka AAR has adjudged that no deduction towards property taxes is allowed from the value of renting of immovable services (RIS). Further notional amount of interest on security deposit would be included in value, only if it influences the monthly rent.
Miscellaneous GST NEWS updates:
Due- Date extended for Anti-profiteering related compliance to 30th November 2020
The government has given time till November 30 for authorities, like DGAP, to complete anti-profiteering related compliance, which falls due between March 20 and November 29. In a notification, the CBIC said "where any time limit for completion or compliance of any action, by any authority,…under section 171 of the said Act, which falls during the period from the March 20 to November 29, 2020, and where completion or compliance of such action has not been made within such time, then, the time-limit for completion or compliance … shall be extended up to November 30, 2020".
Here are the major GST News updates from the month of August 2020
August 2020, the month of independence and festivals saw major GST changes and Updates. The government release quite a few important notifications that were to be implemented. Also, the news about the new returns to be scrapped has been shared. We have created an array of resources about all the important updates in this month. Let us go through it one by one:
New E-Invoice Schema Released:
New E-Invoice Schema is released as per Notification 60/2020.
E-Invoicing is going LIVE from 1st October 2020 as per Notification 61/2020.
E-invoice API Specification: Versions and Updates
With the new E-invoice APIs, E-way Bill generation flow has been enabled. Thus while sending invoice details for IRN generation, if transport details are included, E-way Bill Number (EWB) will get generated. The APIs available for the e-way bill are:
Generate IRN – Wherein transport details can be provided along with invoice details. Based on transport details are provided e-way bill number gets generated
Generate E-way Bill by using  IRN – From the IRP portal itself, an E-way Bill can be generated by providing the IRN
Read more: E-invoice API Specification
GST Data Based Lending – The Emerging Case for MSMEs Credit Appraisal
We updated an article about GST Data based lending and how it can benefit MSMEs.
Changes Expected in Current GST Returns –New Returns Scrapped
Another important article that we published is this one where all the changes that were expected are explained in detail. This is were the introduction to GSTR 2B was made. Read: Expected Changes in GST Returns
How to generate an E-way Bill using IRP?
E-invoicing and E-way Bill generation can take place simultaneously as well. The Government has streamlined the generation of E-way Bill with E-Invoicing. An IRP can be used to generate not only IRN but also E-way bills, for the documents which qualify. Thus, depending on the data sent, the IRP system will return IRN or E-way Bill Number or both. Read all about E-invoicing and E-way Bill here.
GSTR-2B – What, When, Where and How of it
The new GST Return – GSTR-2B is an auto-drafted Input Tax Credit ( ITC ) statement, recently introduced by GSTN to simplify Input Tax Credit Claim for taxpayers. It is a fixed statement and will be generated on 12th of every month for every recipient on the basis of the information furnished by their suppliers in their respective GSTR-1, GSTR 5 and GSTR 6.
Read all about GSTR 2B here.
E-invoicing and B2C Transactions | QR Code – FAQs
Understanding E-invoicing and QR code generation for B2C transactions has become quite important in the current scenario when the e-invoicing system is set to be mandatorily implemented for taxpayers with turnover over INR 500 cr. from October 1, 2020. Read all about E-invoicing and B2C Transactions here.
Is Reverse Charge Transaction covered under E-invoicing?
Companies were in a state of confusion on RCM transactions because when e-invoice goes live as in the case of Reverse Charge Mechanism (RCM), Purchaser issues self-invoice which is reported in GST returns and under E-Invoicing, Purchasers under no situation can generate Invoice Reference Number (IRN). To understand the rules of e-invoicing in relation to Reverse Charge Mechanism (RCM), read:                    E-invoicing for RCM.
******
Prime Minister Narendra Modi once said, "Mera Desh Badal Raha hai", and it stands true for all the aspects of national development, including GST.
Although the country is going through a major economic slowdown, the rise in GST collection and the updates introduced in the month of November have brought in a ray of hope. To add more to it, Finance Minister, SM Nirmala Sitharaman has shared an assurance with the taxpayers that the state of GST shall further improve in the months to come.
Here are the major GST NEWS updates from the month of November 2019.
1. CBIC Issues GSTR 3A Notice in Bulk for Non-Filers
With an aim to increase GST compliance in the country, the CBIC has come up with a new facility for the issuance of GSTR 3A. The new facility allows the CBIC issue non-compliance notices in bulk via email.
GSTR 3A is issued when the taxpayers are found guilty of not filing their GSTR 3B, GSTR 4, GSTR 5, GSTR 6, GSTR 7, GSTR 8, etc. Once a taxpayer receives the notice, he is required to file his returns within 15 days or face heavy penalties.
2. Robots to Check Tax Evasion in India
The Delhi government will soon start to use a machine-learning tool to fight tax evasion and identify bogus firms. Based on the initial estimates, the public exchequer is likely to gain up to Rs 300 crore annually by plugging the leaks. The use of AI has been adopted by several other countries to find tax evaders. For instance, in Denmark, the AI tools successfully hit 85 out of every 100 cases and 65 of these cases fall in the category of tax frauds, as reported by the World Bank in 2018.
3.     6% rise in GST Collection
After a steep downward curve in the past 2 months, the GST collection took a mighty rise in November. With an astonishing amount of INR 1.03 lakh crores, a rise of 6% was observed as compared to last year's collection. November's GST collection is also the third-highest amount to have been collected since the introduction of GST. And the credit to this rise goes to the GST officials who have been working tirelessly to enable better adherence to the tax rules by the taxpayers.
The Breakdown of the total GST collection of INR 1,03,492 crores includes CGST of INR 19,592 crore, SGST of INR 27,144 crore, IGST of INR 49,028 crore (INR 20,948 crore collection on imports) and Cess of INR 7,727 crore (INR 869 crore collection on imports).
GST Collection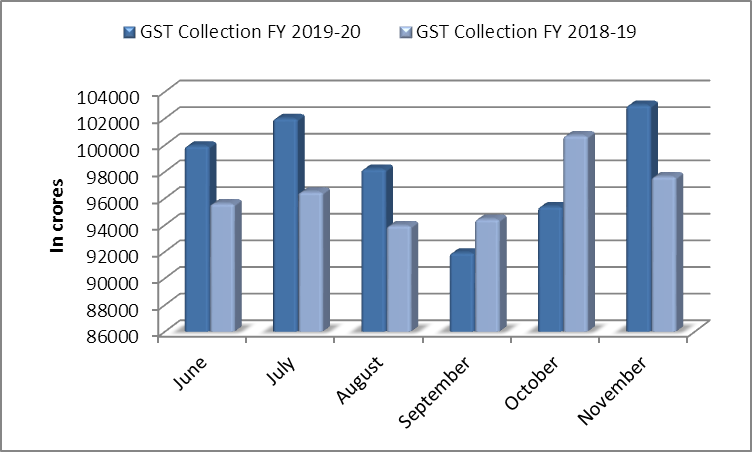 4. GST e-Invoicing Mandate if aggregate Turnover is more than INR 100 Crore
The eInvoicing system shall be introduced on a trial basis from January 1, 2020. During this trial period, businesses with an annual turnover exceeding INR 500 crores can voluntarily move to the new invoicing system. The same option will be available for businesses with a turnover of INR 100 crores and above from the month of February 2020.
The provision is being implemented to curb tax evasion in the country. The use of eInvoicing system will be made mandatory from April 2020 onwards.
5. Clarification on the scope of 'Job-work' services
As per Notification 11/2017 inserted with effect from 01-10-2019, the tax rate for item (id) under heading 9988 i.e "Services by way of job work other than specific entry" was changed from 18% to 12%. This led to doubts regarding item (iv) "Manufacturing services on physical inputs (goods) owned by others other than specifically specified" which had a tax rate of 18% and this was being considered as redundant by taxpayers. Hence a circular clarifying the same was issued.
As per Circular no. 126, dated 22 Nov 2019, under GST surveillance, job work has been defined under CGST Act as under 'Job work means any treatment or process undertaken by a person on goods belonging to another registered person and the expression 'job worker' shall be construed accordingly.'
Thus there is a clear demarcation of registered person between the entries (id) and (iv) mentioned above. On the above basis, if any service is provided by way of treatment or processing undertaken by a person on goods belonging to another registered person will be considered under the Job work service with a tax rate of 12%. It also means that any service is provided to Non-registered person by way of treatment or processing, then it will be covered under manufacturing service with a tax rate of 18%.
6. Chandigarh introduces a new intelligence unit to investigate each taxpayer's compliance
A new intelligence unit has been introduced in Chandigarh's tax administration. This department has been set up to target issues like tax evasion, and revenue collection. The intelligence team consists of six influential personnel including two CAs, one Excise and Taxation Officer (GST), an Advocate and members from a Chartered Accountant firm.
The inclusion of this new intelligence department in tax administration will help the Excise and Taxation Department to scrutinise the taxpayers operating in Chandigarh. Thus, allowing them to have a better descriptive of their previous tax compliance. Additionally, this new unit will extend complete information related to GST to the taxpayers and update them about the new policies issued by the Central Government from time to time. This will help the taxpayers be aware of all the policies of GST and in turn, enhance GST revenue.
IRIS GST, one of the leading GST Suvidha Provider (GSP) in India, is a one-stop solution for your GST Compliance (IRIS Sapphire) and E-way bill (IRIS Topaz) related issues. For any queries or to know more about our GST Compliance solutions, kindly drop us a mail at support@irisgst.com.