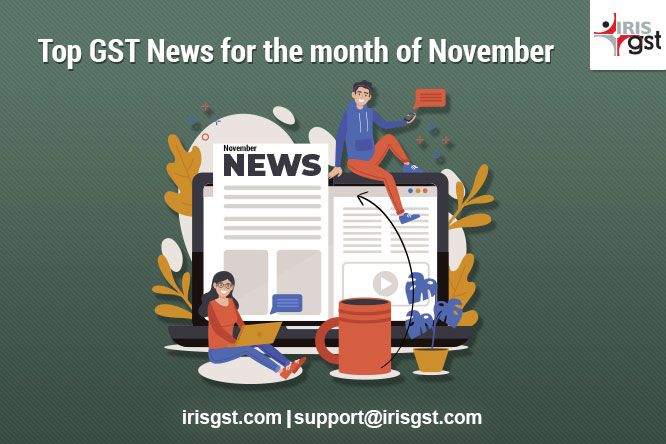 Prime Minister Narendra Modi once said, "Mera Desh Badal Raha hai", and it stands true for all the aspects of national development, including GST.
Although the country is going through a major economic slowdown, the rise in GST collection and the updates introduced in the month of November have brought in a ray of hope. To add more to it, Finance Minister, SM Nirmala Sitharaman has shared an assurance with the taxpayers that the state of GST shall further improve in the months to come.
Thus, on the same note, here are the major of updates from the month of November.
1. CBIC Issues GSTR 3A Notice in Bulk for Non-Filers
With an aim to increase GST compliance in the country, the CBIC has come up with a new facility for the issuance of GSTR 3A. The new facility allows the CBIC issue non-compliance notices in bulk via email.
GSTR 3A is issued when the taxpayers are found guilty of not filing their GSTR 3B, GSTR 4, GSTR 5, GSTR 6, GSTR 7, GSTR 8, etc. Once a taxpayer receives the notice, he is required to file his returns within 15 days or face heavy penalties.
2. Robots to Check Tax Evasion in India
The Delhi government will soon start to use a machine-learning tool to fight tax evasion and identify bogus firms. Based on the initial estimates, the public exchequer is likely to gain up to Rs 300 crore annually by plugging the leaks. The use of AI has been adopted by several other countries to find tax evaders. For instance, in Denmark, the AI tools successfully hit 85 out of every 100 cases and 65 of these cases fall in the category of tax frauds, as reported by the World Bank in 2018.
3.     6% rise in GST Collection
After a steep downward curve in the past 2 months, the GST collection took a mighty rise in November. With an astonishing amount of INR 1.03 lakh crores, a rise of 6% was observed as compared to last year's collection. November's GST collection is also the third-highest amount to have been collected since the introduction of GST. And the credit to this rise goes to the GST officials who have been working tirelessly to enable better adherence to the tax rules by the taxpayers.
The Breakdown of the total GST collection of INR 1,03,492 crores includes CGST of INR 19,592 crore, SGST of INR 27,144 crore, IGST of INR 49,028 crore (INR 20,948 crore collection on imports) and Cess of INR 7,727 crore (INR 869 crore collection on imports).
GST Collection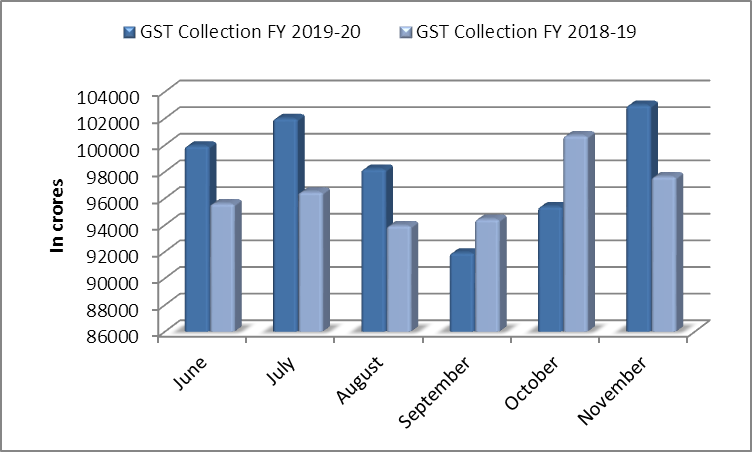 4. GST e-Invoicing Mandate if aggregate Turnover is more than INR 100 Crore
The eInvoicing system shall be introduced on a trial basis from January 1, 2020. During this trial period, businesses with an annual turnover exceeding INR 500 crores can voluntarily move to the new invoicing system. The same option will be available for businesses with a turnover of INR 100 crores and above from the month of February 2020.
The provision is being implemented to curb tax evasion in the country. The use of eInvoicing system will be made mandatory from April 2020 onwards.
5. Clarification on the scope of 'Job-work' services
As per Notification 11/2017 inserted with effect from 01-10-2019, the tax rate for item (id) under heading 9988 i.e "Services by way of job work other than specific entry" was changed from 18% to 12%. This led to doubts regarding item (iv) "Manufacturing services on physical inputs (goods) owned by others other than specifically specified" which had a tax rate of 18% and this was being considered as redundant by taxpayers. Hence a circular clarifying the same was issued.
As per Circular no. 126, dated 22 Nov 2019, under GST surveillance, job work has been defined under CGST Act as under 'Job work means any treatment or process undertaken by a person on goods belonging to another registered person and the expression 'job worker' shall be construed accordingly.'
Thus there is a clear demarcation of registered person between the entries (id) and (iv) mentioned above. On the above basis, if any service is provided by way of treatment or processing undertaken by a person on goods belonging to another registered person will be considered under the Job work service with a tax rate of 12%. It also means that any service is provided to Non-registered person by way of treatment or processing, then it will be covered under manufacturing service with a tax rate of 18%.
6. Chandigarh introduces a new intelligence unit to investigate each taxpayer's compliance
A new intelligence unit has been introduced in Chandigarh's tax administration. This department has been set up to target issues like tax evasion, and revenue collection. The intelligence team consists of six influential personnel including two CAs, one Excise and Taxation Officer (GST), an Advocate and members from a Chartered Accountant firm.
The inclusion of this new intelligence department in tax administration will help the Excise and Taxation Department to scrutinise the taxpayers operating in Chandigarh. Thus, allowing them to have a better descriptive of their previous tax compliance. Additionally, this new unit will extend complete information related to GST to the taxpayers and update them about the new policies issued by the Central Government from time to time. This will help the taxpayers be aware of all the policies of GST and in turn, enhance GST revenue.
IRIS GST, one of the leading GST Suvidha Provider (GSP) in India, is a one-stop solution for your GST Compliance (IRIS Sapphire) and E-way bill (IRIS Topaz) related issues. For any queries or to know more about our GST Compliance solutions, kindly drop us a mail at support@irisgst.com.