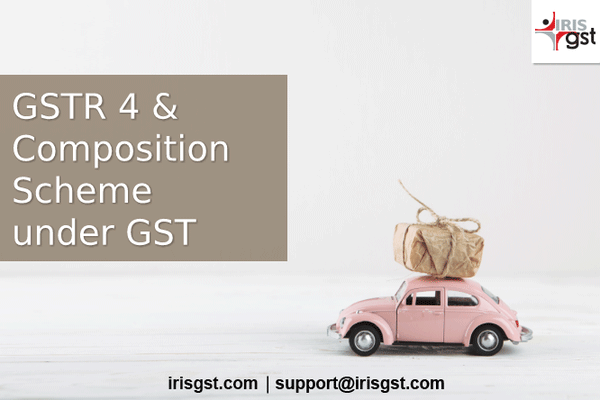 What is composition scheme?
Composition Scheme is a simple and easy scheme under GST for small taxpayers. Under GST small taxpayers can choose to free themselves from the hassles GST formalities by simply opting in for composition scheme. However, the composition scheme is available only for taxpayers whose turnover is less than Rs. 1.5crores (75 lakhs for North Eastern states and Himachal Pradesh).
Non-eligibility for Composition scheme.
Besides taxpayers with an annual turnover above 1.5 crores, the following people cannot opt for the scheme:
Supplier of services other than restaurant related services.
Manufacturer of ice cream, pan masala, or tobacco.
A person making inter-state supplies.
A casual taxable person or a non-resident taxable person.
Businesses which supply goods through an e-commerce operator.
How can a composition dealer file his returns?
GSTR-4 is a GST Return that has to be filed by a Composition Dealer. Unlike a normal taxpayer who needs to furnish 3 monthly returns, a dealer opting for the composition scheme is required to furnish only GSTR-4.
GSTR-4 due date
GSTR 4 is a quarterly return form, and the composition dealer has to file his required to file his returns on or before the 18th day of the month succeeding the quarter.
Revision of form GSTR 4
Once the dealer has submitted his/her GSTR-4 on the GSTN portal, it cannot be revised. And for any mistake in the return, the dealer shall be able to revise in the next quarter's filing.
Late Fees and Penalty
The penalty on account of delayed/non-compliance is Rs 50/day (As per Latest Notification No. 73/2017) until the user files his/her form GSTR 4. However, the maximum penalty applicable is restricted to Rs. 5000. In addition, if the GSTR-4 is not filed for a given quarter, then the taxpayer cannot file the next quarter's return either.
P.S: In case of NIL return in GSTR-4, the applicable fine is Rs. 20 per day of delay.
Bill of Supply and Tax Invoice
A composition dealer is not eligible to collect tax on his/her sale and thus he/she cannot issue a tax invoice. A composition dealer is required to issue a Bill of Supply, wherein he should also mention "composition taxable person, not eligible to collect tax on supplies" at the top of the Bill of Supply.
Advantages of Composition Scheme
A composition dealer can enjoy the following perks while being registered under the scheme.
Lesser compliance (returns, maintaining books of record, issuance of invoices)
Limited tax liability
High liquidity as taxes are at a lower rate
Disadvantages of Composition Scheme?
In contrast to the previously mentioned advantages, a composition dealer also has to meet the below-mentioned disadvantages:
Restricted business territory, as the dealer is barred from carrying out inter-state transactions
Composition dealers cannot avail ITC
The taxpayer will not be eligible to supply exempt goods or goods through an e-commerce portal.
IRIS GST is one of the leading GSPs in India. Our GST compliance solution, IRIS Sapphire, is designed to make your return preparation and filing process easy and efficient.
For any queries or to book a demo, please write to support@irisgst.com.