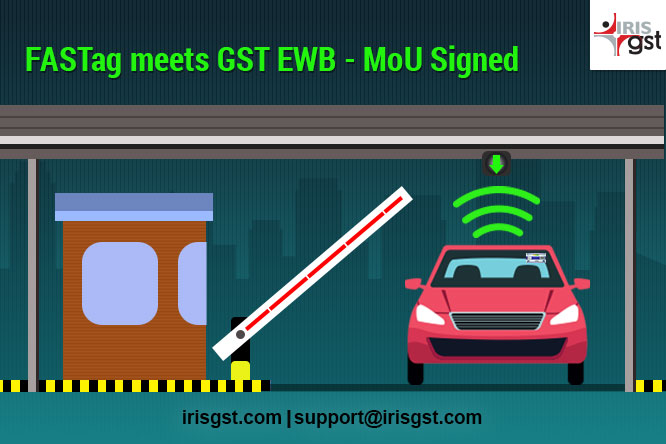 Update: The Union Ministry of Road Transport and Highways made FASTags mandatory for four-wheelers or M&N category of vehicles that were sold before 1 December 2017 from January 1, 2021 onwards. Later, the deadline was extended till January 15, 2021.
The integration of GST E-way Bill with FASTag, envisaged in January 2019 with the revenue department setting up an officers committee to integrate e-way bill, FASTag and Delhi-Mumbai Industrial Corridor's (DMIC's) Logistics Data Bank (LDB) services, finally came into effect last week. GSTN Council had already accorded 'in principle' approval for this integration. On October 14, 2019, the Union Minister for Road Transport & Highways and Shipping Minister for MSMEs, Shri Nitin Gadkari, inaugurated the conference for One Nation One Tag – FASTag, rolling out the process for a unified E-system across the country.
On this day, two of the major government alliances The Indian Highways Management Company Ltd (IHMCL) and Goods and Services Tax Network (GSTN) have signed a memorandum of understanding (MoU), which focused on the merger of FASTag with GST e-way bill system Another MoU signed on the day suggest that from December 1, 2019, onwards, the collection of toll charges on any National Highway Toll Plaza shall be carried via FASTag, mandatorily.
What is FASTag?
The National Highways Authority of India (NHAI) has put in place the FASTag system under the National Electronic Toll Collection (NETC) programme for the collection of toll electronically on national highways.
In simple terms, a FAS-Tag is an easy to use and rechargeable tag that a user can stick on the windscreen of their vehicle. These tags can be detected from 25 metres away using Radio Frequency Identification (RFID). Once detected, toll plazas can automatically deduct the toll charges from the traveller's e-wallet, without halting the vehicle for any transaction.
FASTag solution architecture already supports approx. 6 million tags with approximately daily 10 lakh transactions. FASTag also offers non-stop movement of vehicles through toll plazas.
However, collection at state highways toll plazas is either done manually or through other tags. Thus, the Ministry is encouraging States to come onboard FASTag, wherein the following States have already participated in the scheme:
Uttar Pradesh – UP Expressway Industrial Development Authority
Maharashtra – Maharashtra State Road Development Corporation
Tamil Nadu – Tamil Nadu Road Development Corporation
Andhra Pradesh – AP Road Development Corporation
Haryana – Haryana PWD
Karnataka – Karnataka PWD and Karnataka Road Development Corporation
Punjab – Punjab PWD
Telangana – Telangana PWD
FASTag meets GST Eway Bill
In June this year, the Finance Minister had submitted a written response in Lok Sabha regarding the positive report being submitted by the officers' committee before the occurrence of 36th GST Council Meeting. The Principal approval was given to the EWB – FASTag integration then.
What you need to do about E Way Bill and FASTag Integration?
FASTag enabled EWB will be mandated across the country from April 2020 onwards. But vehicle owners who are eligible for GST payments need to apply for the e-wallet by December 1, 2020.
Integration of e-way bill with FASTag will help revenue authorities track the movement of vehicles and ensure that they are travelling to the same destination as the transporter or the trader had specified while generating the e-way bill.
It will also help the suppliers locate the goods through the e-way bill system. Transporters, too, would be able to track their vehicles through SMS alerts that would be generated at each toll plaza.
Benefits of FASTag enabled E Way Bill for transporters/traders
Precise Transport Monitoring
Efficient Track and Trace mechanism for EWB system to curb tax evasion
SMS based Consignment tracking-assistance: Sent to the registered mobile number
Cashback on Toll Payments: Cashback of 2.5% on all national toll payments. The offer is valid till March 2020.
One e-Wallet, multiple Utilities: The same e-Wallet will be functional to pay toll charges, parking charges and make fuel payments.
NHAI Prepaid Wallet: The prepaid wallet gives customers the choice of not linking their FASTag to their bank accounts.
My FASTag App: Provides a single one-stop solution to FASTag customers. Features include:

Helps linking of bank neutral FASTag to the bank account of your choice.
UPI recharge of bank-specific FASTag
Search for nearby Point-of-Sale location by various banks and IHMCL, List of Operational Toll Plazas under NETC programme, and Customer Support Toll-Free numbers.

Accidental Death Cover: The e-wallet supports an accidental death cover of up to Rs.1,00,090 for on-duty drivers.
GST Filing: The new e-wallet will allow goods vehicle owners to use the transaction data for filing GST returns.
How to buy these Tags?
A person can buy the FASTag through any nearby POS locations such as Toll Plaza, Partner banks, issuer agencies or online aggregators like Amazon, etc. However, before the FASTag can be put to use, it needs to be activated at any one of the POS by submitting the below-given documents and creating FASTag account.
Documents Required
Registration Certificate of the Vehicle.
Passport-sized photograph of the Vehicle owner.
KYC Documents appropriate to the category of the vehicle owner.

Driving License
PAN Card
Passport
Voter's Identity Card
Aadhaar Card
Fees
FASTag has one-time Fee of Rs 200. The Fees applicable for the issuance of FASTag are as follows:
Joining Fees
Tag Joining fees – 100(inclusive of all taxes)
Reissuance Fees – 100 (inclusive of all taxes)
Security Deposit (Based on Vehicle)
| | | | | |
| --- | --- | --- | --- | --- |
| NPCI Vehicle Class | Description | Tag Colour | Security Deposit (in Rs.) | Threshold Amount (in Rs.) |
| 4 | Car / Jeep / Van / Tata Ace and Similar mini Light Commercial Vehicle | Violet | 200 | 100 |
| 5 | Light Commercial vehicle 2-axle | Orange | 300 | 140 |
| 6 | Bus– 3 axle | Yellow | 400 | 300 |
| 6 | Truck – 3 axle | Yellow | 500 | 300 |
| 7 | Bus 2 axle / Mini bus, Truck 2 axle | Green | 400 | 300 |
| 12 | Tractor / Tractor with trailer, Truck 4, 5 & 6 -axle | Pink | 500 | 300 |
| 15 | Truck 7-axle and above | Blue | 500 | 300 |
| 16 | Earth Moving / Heavy Construction Machinery | Black | 500 | 300 |
Types of FAStag
NHAI FASTag
Tags that are Bank neutral i.e., no banks linked to your FASTag at the time of purchase. The Customer can choose to recharge their FASTag using the bank account of their choice or through NHAI prepaid wallet.
You can get NHAI FASTag from designated POS such as Toll Plazas, Petrol Pumps or Amazon.in
Bank Specific
Tags issued by various issuer banks, linked to the prepaid wallets of the selected banks. You can get Bank Specific FASTags from Toll Plazas operated by the assigned acquirer bank, Bank Branches and Select Common Service Centres. You can also buy Bank Specific tags online, however, the purchase is restricted to Class 4 tags.
How to Recharge the Tags
You can recharge your FASTag through Cheque or Cash at POS. For Online FASTag recharge of Bank Specific Tags, the user can use credit/debit cards, Net Banking facilities, E-wallets, UPI services and through My FASTag application.
For Tags linked with user's bank account, there is no need for any additional recharge, as the toll charges shall be directly deducted from users
Key Points
You need to have separate FASTags for separate vehicles
In case of loss of FASTag, you can call the issuer agency and block your FASTag. On creation of a new account, your balance amount will be updated in the new account.
Currently, FASTag is being used on over 480 National Highway Toll Plazas, while many State and City toll Plazas have signed MOU for the same.
IRIS is an established GST Suvidha Provider (GSP) and was one of the first GSPs to complete the integration with NIC's E-way Bill System. Our E-way Bill solution, branded as IRIS Topaz, is an end-to-end solution for entire E-way Bill operations. With features like EWB generation, EWB Cycle Management, Distance Calculation, EWB Consolidation, etc. IRIS Topaz is your one-stop solution for all your EWB hassles. IRIS Topaz can be accessed through the web, desktop utility, and APIs.
For any queries or to book our free demo, Click on Schedule a demo.
For a Smooth
E-way Bill Journey