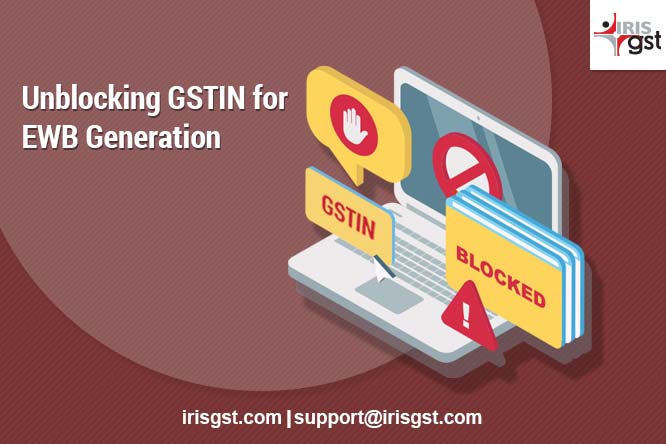 Update:
16th November 2020: The GST Network or GSTN will activate an automated system from December 1,2020 that will bar non-filers of monthly GST return form GSTR-3B, irrespective of turnover limits, from generation of E-way Bill.
Starting December 02, 2019, the barring of EWB generation in case of non-compliance for 2 consecutive filing period has been implemented on the EWB portal. For the month of September and October, over 3.5 lakh GSTINs have been blocked from generating Eway Bill.
Unblocking a GSTIN for EWay Bill Generation in case of non-filing of GST Returns is going to be a major concern of the MSME sector in coming days as the rule of EWay Bill Generation blocking is now supposed to come into effect from 21st November 2019 as per Notification No. 36/2019 – Central Tax dated 20.08.2019.
Announced through the Notification 22/2019-Central Tax ,dt. 23-04-2019, Rule 138 E was supposed to come into effect from June 21, 2019 but same was postponed. The rule puts restriction on furnishing of information in PART A of FORM GST EWB-01. The rule blocks GSTIN for EWay bill generation for taxpayers failing to file GST Returns for 2 consecutive periods.
As per the rule, if a consignor, consignee or transporter fails to file his GST returns for 2 consecutive months, his GSTIN shall be barred from generating Eway bills for the transportation of goods. Similarly, for composite dealers, who are required to file quarterly returns, shall have their GSTIN barred from Eway bill generation, if their returns have not been filed for two consecutive filing periods i.e. six months.
For now, EWay bill portal has started showing warning message to users for blocking GSTIN in case of non-filing.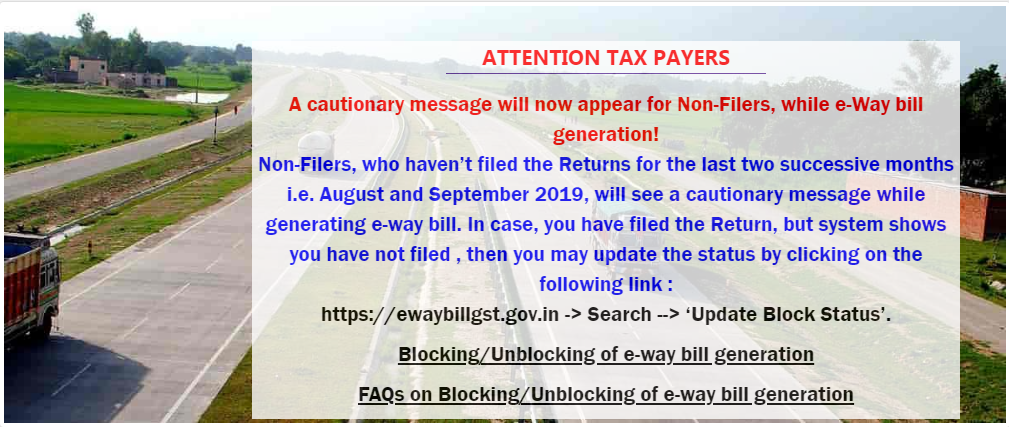 Why is GSTIN blocked for EWay Bill Generation?
Many a time, a taxpayer is unable to file his GST returns, intentionally or unintentionally. However, due to these missing invoices, the buyer is unable to claim ITC for taxes he has paid. Furthermore, the blocking of GSTIN for Eway bill generation is also being touted as an Anti-evasion step to shore up the revenue and increase GST compliance.
So, can the blocked GSTIN be unblocked?
How to unblock GSTIN for EWay Bill Generation?
If your GSTIN has been blocked on the EWB portal due to Non-Compliance, it can be unblocked as follows:
1. Automatic GSTIN unblocking
The GST Common Portal blocks the EWB generation in absence of GSTR filing for 2 consecutive filing periods. However, as soon as the consignor, consignee or transporter files his GSTR 3B, the block status is automatically updated as 'Not Blocked' within a day in the e-waybill system and the taxpayer will be able to generate EWB once again.
This is how the system mesage is shown when timely GST filings are in place: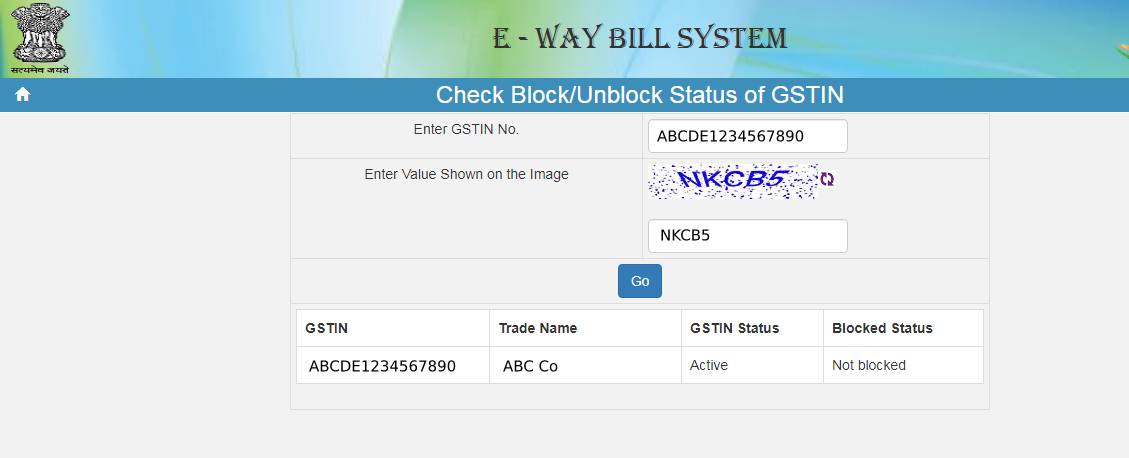 This is what the message is shown in case of non-filing:
2. What to do if GSTIN is not unblocked automatically after GST filing? or How can GSTIN be unblocked immediately upon filing the GST returns?
Generally, the common portal automatically updates the blocking status of the GSTIN within a day's time of GSTR 3B filing. However, in case you are still not able to generate Eway Bill, you can manually refresh the GSTIN block status on E-way bill portal as follows:
Select Update Block Status from the search tab.
Enter the GSTIN and Captcha Value
And click on 'Update GSTIN from Common Portal'.
This will fetch the status of Filing from GST Common Portal and if filed, the status in e-way bill system will subsequently get updated
GSTIN Blocking alert
If a taxpayer has not filed his return for more than filing period, he shall receive alerts saying, "e-Way bill generation may be blocked after few days as you have not filed last two months successive returns at GST Common Portal" while generating Eway on the common portal.
But this alert message does not mean it will block or stop the taxpayer to generate an e way bill. But if the taxpayer fails to furnish the GST return after the lapse of the due date then from next month onwards, such taxpayers will be blocked.
How many days does it take to unblock a GSTIN on the E way bill portal?
As a standard procedure, GSTIN will be unblocked within a day on the E way bill portal. Once the taxpayer files the pending GST Returns (GSTR 3B) on the GST Portal, e way bill portal will automatically be updated and seamless generation of e-way bill will continue.
For e.g, If a taxpayer files the pending GST returns on say 11th December 2019, then the GSTIN will be unblocked on 12th December 2019.
What if the GSTIN is still blocked, after filing the GST returns and also trying to update the GSTIN from the Common portal?
As a last resort, the taxpayer can raise a complaint about resolving the issue/case by contacting
GST Help Desk: 0120-4888999 or
State Specific Helpdesks or
IRIS GST is a leading GST Suvidha Provider (GSP) in India, providing an easy and efficient solution for GST (IRIS Sapphire) and E-way bill (IRIS Topaz) compliance.
For any GST related queries or to know more about our solution contact us.
Switch to Smart E-way Bill
Management System