Updated on 10 Nov 2020: E-invoicing is mandatory for taxpayers having aggregate turnover above Rs. 100 Cr from 01st Jan 2021 | GST Notification 88/2020
Updated on 23 July 2020: Taxpayers with a turnover of Rs. 500 cr & above in the FY 2019-20 are mandated to generate e-invoice from October 2020. Login to the e-invoice portal enabled.
The E-invoicing model has been adopted by many countries globally with varying implementation models. Indian adoption consists of the following components:
A standard/ Formats for e-invoice – The standard covers the data fields and its specification. It is recommended that businesses (henceforth referred to as taxpayers) should update their systems to follow the e-invoice standard which will allow seamless interoperability and data exchange throughout the eco-system
A portal for registering invoices – Invoices and other documents such as debit notes, credits notes (henceforth collectively referred as invoices) generated by the taxpayers need to be registered on the Invoice Registration Portal (IRP) and a successful registration will return a unique reference number, digital signature and QR code for the invoice. Only an invoice registered on IRP will be a valid and authenticated document for any further processes such as refund, ITC etc.
E-invoice standard
The e-invoice format prescribed for India has been drafted taking into account the globally followed practices as well as the industry needs of businesses in India. The e-invoice standard has been finalized after consulting with Institute of Chartered Accountants of India (ICAI), the trade bodies and feedback from public.
With the e-invoice standard, information which taxpayers were including in their invoices, in their own silos, will now be standardized. Taxpayers as per their needs can adopt the fields for reporting, sharing and printing purposes.
E-Invoice Schema
The blueprint for e-invoicing in India has been published by Government specifying the working model of e-invoicing in India along with a standard for generating e-invoicing.
Updated on 1st August 2020
New E-Invoice Schema is released as per Notification 60/2020 . Please find the details below.
Version 1.1 of E-Invoicing Schema released:
There are not substantial changes in the new E-Invoicing schema. It has major changes to improve the syntax, parameter definitions and specifications.  In most of the cases, descriptions (label) and explanatory remarks are reworked.
Following are the changes in the new E-Invoicing schema:
1 New Fields added in the E-Invoicing Schema
(1) IGST Applicability despite Supplier and Recipient located in same State/UT
(2) Export Duty Amount : Optional (Amount of Export Duty in INR, if any, applicable (in case of invoices for export)
(3) Invoice Level Discount Amount – Optional
(4) Other Charges (Invoice Level) – Optional
2 Changes in Specifications (eg) 
(1) Supplier/Recipient State Name in API changed to Supplier/Recipient state code
(2) Ship To Legal and Trade Name : changed from String (Max length: 60) to String (Max length: 100)
As mentioned in point 2 there are some other fields too where maximum length is changed.
3. Changes in Mandatory/Optional Fields (done in lines with EWB schema):
(1) Recipient State Code – Optional to Mandatory
(2) TransMode – Mandatory to Optional
Apart from the above mentioned changes, following points to be noted:
Due to the new amount related fields added at invoice level, NIC may change validations related to invoice value.
B2C added in invoice type is just added in notification as an example however, e-invoicing is not required and will not be allowed for IRN generation.
Published on October 18, 2019
The Proposed E-invoice schema has been shared by the GSTN. There are about 120 fields, of which about 50 are mandatory to be uploaded on Invoice Registration Portal for obtaining the reference number and digital signature.
Following is summary data fields included in e-invoice standard schema
| | | | | |
| --- | --- | --- | --- | --- |
| Section | Mandatory | Optional |  Total | Scope |
| Invoice Details | 11 | 7 | 18 | Identifying the uniqueness and nature of invoice such as invoice number, date, type etc. and overs the IRP generated info like IRN |
| Item Details | 9 | 24 | 33 | Line item details such as HSN, quantity, tax rate, tax amounts etc. |
| Invoice Reference Details | 2 | 8 | 10 | Giving reference for previously or supplementary documents created for the invoice |
| Item Additional Details | 1 | 8 | 9 | Additional details which are associated with line item such as barcode, batch, serial numbers etc. |
| Supplier Details | 5 | 5 | 10 | GSTIN and address of supplier |
| Buyer Details | 6 | 3 | 9 | GSTIN and address of buyer |
| Ship To Details | 7 | 2 | 9 | Address and other details such as transaction type, supply mode etc. |
| Dispatch From Details | 4 | 4 | 8 | Address and other details as state, ecommerce operator if any, through which dispatched |
| *Supporting Document Details | 0 | 2 | 2 | URLs for supporting documentation, if any |
| *Payment Details | 4 | 5 | 9 | Account information, payment terms etc. |
| Total | 49 | 68 | 117 | |
*Sections are optional. If used, the mandatory fields are recommended. Other sections, mandatory implies required for registering on IRP.
Also to be noted, in case of line item, data will be repeated for every line item.
[/vc_column_text]
[/vc_column][/vc_row]
Beginner's guide to
e-invoicing mandate in India
E-invoicing Workflow
Once the invoice is generated by the taxpayers using the accounting and ERP systems, the process of getting the invoice registered with Government on the Invoice Registration Portal (IRP) is to be imitated.  Comparing with the current business operations, invoice upload on IRP is new step to be followed.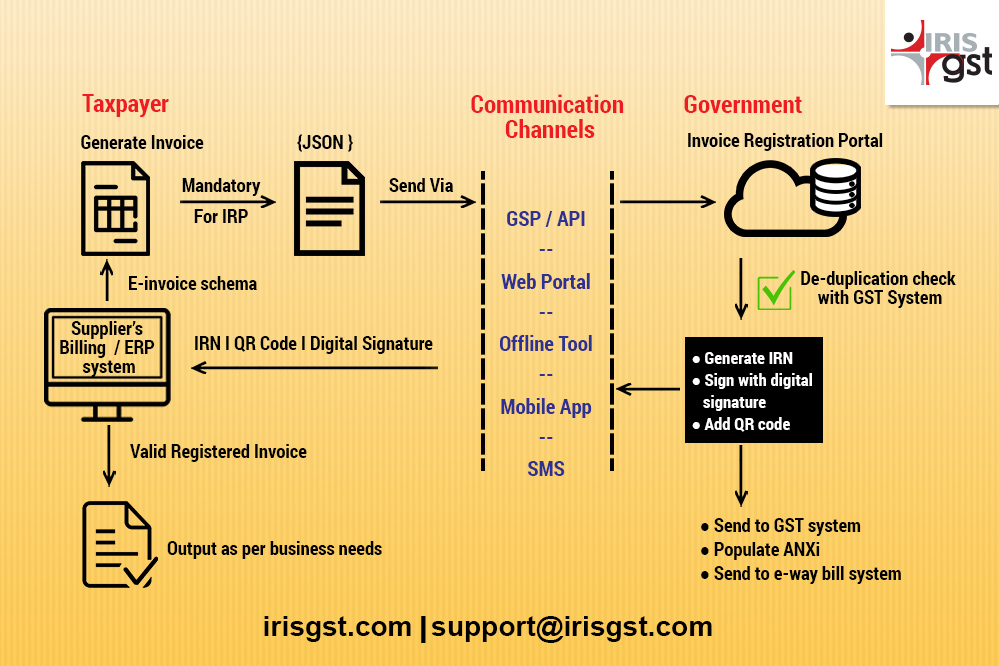 There are two parts of the e-invoicing workflow
Interaction between Taxpayers and Government
Taxpayers will need to upload the mandatory fields from invoice in JSON format to the IRP. Various modes for upload will be provided such as through GSPs, Offline tool, Web portal, direct API access, mobile app and SMS.
Along with the e-invoice standard, Government has also provided the manner in which unique invoice reference number (IRN) will be created (technically referred as hash using SHA256). Taxpayers have flexibility to generate the IRN also within their systems however the invoice will be valid only when registered with IRP.
The generated or validated IRN, along with QR code and digital signature will be returned to taxpayer via the same communication channels.
Interaction between IRP, GST and E-way Bill System
Getting invoice registered will be an almost real-time process and hence keeping in view the transaction volume and load on system, the IRP will consist of multiple nodes referred as Registrar. Taxpayers can get their invoices registered through any of the Registrars of IRP system. Further the Registrars will retain data for the last 24 hours.
In order to ensure no duplication, IRP system will be closely connected to the GST system, which will be the central repository for all IRN generated. Given that GST system already has IRN data, populating of ANX 1 for the supplier will be possible.
E-invoice data will also be shared with e-way bill system and the taxpayers or transporters, will simply need to update the Part B information to get a valid Eway Bill Number.
In a nutshell, taxpayers will need to upload invoice data once to IRP and the GST compliance and e-way bill requirements will be taken care of.
E-Invoicing is going LIVE from 1st October 2020 : Are You Ready?
Looking at the benefits that new IRP system has to offer, e-invoice standard and the e-invoicing process definitely can be considered as positive changes. Though the scope in the initial phase is limited to B2B transactions, the taxpayers need to take a futuristic and holistic lookout.
Considering the recent update through notification 60/2020 and 61/2020, taxpayers, should start the change assessment as the e-invoice standard will imply upgrading the accounting and ERP systems. There will be offline utilities and service providers who can bridge the gap between current systems and expected e-invoice standards, however the full benefits of e-invoicing can only be realized when the IRN and digital signature is recorded back in the accounting systems. In other words, end-to-end integration.
Some key immediate actionable for taxpayers hence are –
Gap analysis of the e-invoice standard and current captured items in internal invoicing systems
Change Management: Identify the changes needed, keeping in view, future updates when e-invoice could expand to other transactions such as B2C
Impact on Other Business Process: Analyze impact on other business processes such as vendor communication, reconciliation, payment milestones etc.
Supply Chain Evaluation: Evaluate the supply chain gaps and support needs for your small vendors, who will now need to get invoice registered on IRP as only then your ITC claim will be ensured
IRIS E-Invoicing Solution
IRIS is one of the leading GSPs having many large corporate groups using IRIS GST software suite for their GST compliance (IRIS Sapphire), E-way Bill management (IRIS Topaz) and GSTIN verification (IRIS Peridot). IRIS is also one of the free accounting and billing software providers em-paneled by GST for small taxpayers.
We understand compliance and we are also one of the global leaders in implementing standards for regulators and companies.
IRIS Onyx, an e-invoicing solution from IRIS GST, is a one-stop platform for you to view, share and collaborate with your customers and suppliers alike while managing the entire communication with the GST systems in a hassle-free manner.
For any queries or to schedule a demo