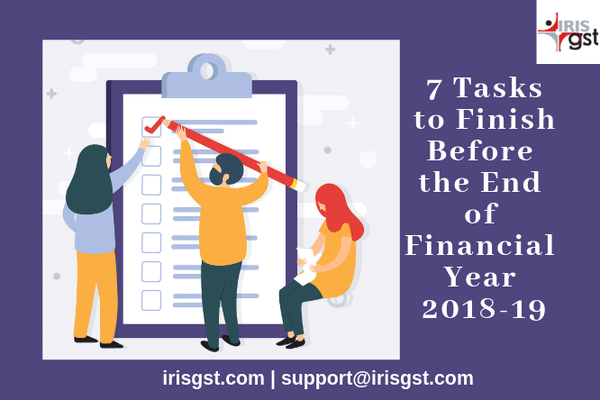 Coming to the end of the financial year 2018-19, one may call it a roller coaster ride that went through various rules and amendments introduced by the GST Council. In order to restrain tax evasion, simplify tax returns and enable a fairer taxation system, the GST council has put their best foot forward effective April 1, 2019. Now as the fiscal year 2018-19 approaches its end, a new page awaits to be written.
However, below is a list of things you need to be prepared for before the year ends.
1. Amendments /Rectification:
One should note that the return for March 2019 is the last chance to amend and rectify any mistakes or omissions made in GSTR-1 or GSTR 3B returns for the FY 2017-18.For the same, the taxpayer should reconcile their books of accounts (Ledgers) with the uploaded returns. And adjust the differences (if any) in form GSTR -3B. Also for any mistakes made in GSTR-1, for instance, uploading wrong GSTIN, submitting B2B instead of B2C, omitted invoices, etc. should be amended can be amended.
2. Last chance to avail pending Input Tax Credit (ITC):
The taxpayer should reconcile their Input tax Credit as reflected in GSTR-2A with GSTR-3B filed by them along with their accounting books.The taxpayer should also follow up with the suppliers for the missing invoices on their end, as the ITC cannot be availed by the taxpayer in the absence of the same.
3. TDS Return: 
TDS Deductors should file TDS returns from October'19 to February'19, so that counterparty can receive TDS credit before filing their GSTR 3B for FY 2018-19.
4. TDS Credit: 
Taxpayer should accept the TDS credit as reflected on GST portal on a monthly basis so that the amount of TDS deducted can be claimed in cash ledger.
5. Letter of Undertaking:
All the taxpayers who make export without paying tax under LUT should apply for LUT for FY 19-20.
6. Opting for composition scheme:
The taxpayer should also figure it out whether he wants to opt in for composition scheme (Updated Limit Rs. 1.5 Crore) for the FY 2019-20.
7. Miscellaneous:
For income tax, 31st March is the last date to file belated returns for FY 2017-18.
31ST March is the last date for filing revised returns for FY. 2016-17 and 2017-18.
Linking Aadhaar-PAN is now mandatory for the PAN holders who are required to file income tax returns. The last date to link Aadhaar –PAN is 31-01-2019.
If a taxpayer has not paid his/her Advance Tax, then it should be paid before 31st March so as to lower the interest liable.
The last date to file Professional Tax Return for FY 18-19 is 31st March
IRIS GST is a registered GST Suvidha Provider (GSP) in India, which offers end-to-end solutions for all your compliance needs. With features such as Smart Reconciliation, E-Sign, Bulk Uploads, Detailed Insights and Reports, Vendor Communication, IRIS Sapphire provides its user with a complete GST package. Visit GST Reconciliation through IRIS Sapphire, to know more.
For any queries, feel free to connect with us at support@irisgst.com.