Year in GST 2021 saw a sea of changes and updates that required taxpayers to alter their ways of filing taxes or furnish forms and pay dues.
While the year 2020 was full of despair and fear of the pandemic, 2021 brought hope and positivity. COVID vaccination drive was implemented swiftly throughout the country which helped avoid more lockdowns.
Markets opened and the economy boosted. Rise in the GST collections lately is an indicator of the same.
The year in GST 2021 was no less. The first offline GST Council Meeting – 45th GST Council Meeting, after the pandemic was held on 17th September 2021. This was after a gap of 18 months, the last offline meeting was held in March 2020 after which the pandemic struck and all the council meetings since then have been conducted via video-conferencing.
The year started with the e-invoicing mandate going live for Rs. 100 CR+ turnover companies in January 2021 and QRMP introduction and has ended with GSTR 9 self-certification. There have been multiple updates in between. We have collated for you the biggest GST updates and GST law changes that impacted the taxpayers in the year 2021
1. E-invoicing Mandate for 100 Cr. and 50 Cr. Companies
This year, the government decided to further extend the radar and take in medium-sized companies under the e-invoicing mandate. E-invoicing was mandatory for taxpayers having aggregate turnover above Rs. 100 Cr. from 01st Jan 2021 via GST Notification 88/2020. And later, it was made mandatory for taxpayers having aggregate turnover above Rs. 50 Cr. from 1st April 2021 via GST Notification 05/2021. With this change, all the B2B transactions barring a few exceptions, require IRN obligatorily. There is a high possibility of the mandate being made applicable to all businesses in the near future.
2. GSTR 1 Auto-population and blocking of GSTR 1 in case of GSTR 3B non-compliance
Auto-population of details from e-invoices into GSTR-1 is a facility for the taxpayers which has eased out the filing process. However, the auto-populated numbers are not final numbers from the legal point of view. After viewing the auto-populated data, the taxpayers need to verify the propriety and accuracy of the amounts and other data in each field, especially from the perspective of GSTR-1 and file the same, in the light of relevant legal provisions. Sometimes, the data does not directly get auto-populated. To know everything about this, read the auto-population of e-invoice details into GSTR 1.
As per GST Notification, 01/2021 released on 1st Jan 2021 – GSTR 1 or Invoice furnishing facility to be blocked if GSTR 3B is not filed on time. The CGST Rules, 2017 duly amended to insert Rule 59(6). According to which a registered person:
a. shall not be allowed to file GSTR-1, if he has failed to file GSTR-3B for preceding two months;
b. shall not be allowed to file GSTR 1 or furnish details through invoice furnishing facility, if he has failed to file GSTR-3B for the preceding tax period.
c. Along with this, there are a few more conditions due to which your GSTR 1 can be blocked. You can refer to the GST notification for more details.
3. QRMP Scheme and Introduction of IFF
Quarterly Return Monthly Payment or QRMP scheme under GST was introduced to simplify compliance for taxpayers having turnover up to Rs. 5 crores. Option to file GSTR 3B on a quarterly basis can be availed any time during the year from the 1st day of the second month of the preceding quarter till the last day of the first month of the quarter for which the option is being exercised.
Invoice Furnishing Facility (IFF) is an optional facility made available as per Rule-59(2) of the CGST Rules, 2017 and if the taxpayer does not opt for it, then they can directly upload their invoices in GSTR 1. To ease the compliance burden, the system has assigned quarterly frequency to small taxpayers automatically. Payment can be made in the first two months by a simple challan in FORM GST PMT-06.
In July 2021, the government made a few major changes related to QRMP Scheme for the taxpayers. The changes were related to auto-population of GSTR-3B liability from IFF and Form GSTR 1, nil filing of GSTR-1 (Quarterly) through SMS and cancellation of registration on liability to file GSTR-1.
You can read all the QRMP Scheme updates in detail here: QRMP Scheme Updates 2021
4. FasTag Made Mandatory
The Union Ministry of Road Transport and Highways notified that having a FASTag is mandatory for all four-wheel vehicles from January 1, 2021. FASTag is an easy to use and rechargeable tag that a user can stick on the windscreen of their vehicle. These tags can be detected from 25 metres away using RFID. Once detected, toll plazas can automatically deduct the toll charges from the traveller's e-wallet, without halting the vehicle for any transaction.
FASTag was made mandatory for four-wheelers or M&N category of vehicles that were sold before 1 December 2017. For this, the Central Motor Vehicles Rules, 1989 were amended. Later, the deadline got extended to January 15, 2021.
5. COVID-19 Relief Measures
The government announced multiple relief measures citing the COVID-19 pandemic:
GST Rate related relief measures:
These relief measures were related to changes in GST rates for COVID medicines, injections, vaccines, ventilators, medical-grade oxygen, Covid testing kits and so on. IGST is also exempted for imports of certain COVID19 relief goods. Majorly, all the Covid relief measures were announced by the finance ministry via the 44th GST Council Meeting. We have compiled all the measures here: Covid-19 relief measures 2021.
Multiple due-date changes due to the second wave of pandemic:
The pandemic badly affected the business community and due to the lockdown, paying taxes became extremely difficult for business owners and taxpayers. So, to deal with the issue, the government pushed ahead several due dates and exempted interests and late fees applicability. All these changes were announced via the 43rd GST Council Meeting.You can learn about all the GST Due Date Changes in detail here.
6. Compliance related relief for Taxpayers:
Multiple updates have been released throughout the year to simplify compliance for the taxpayer community. We have listed the major updates here:
7. GST Amnesty Scheme
In the 43rd GST Council Meeting, the finance ministry brought out the GST Amnesty Scheme to provide relief to taxpayers regarding late fees for pending returns. It basically reduces the tax burden off taxpayers during the pandemic. This scheme was valid from June 1, 2021, to August 31, 2021. The relief information was out via GST Notification 19/2021. The scheme offered relaxation in late fees for return filings of GSTR 3B and GSTR 1, relaxation in late fees for filing GSTR 4, relaxation for availing Input Tax Credit under GST, and relaxation in late fees for filing of GSTR 7.
8. Blocking of E-way Bill facility Resumed
The government had temporarily suspended blocking of E-way Bill generation for taxpayers in 2020 citing the pandemic to bring in relief for taxpayers. As per the GST advisory released on 4th August 2021, the blocking of the E-way Bill (EWB) generation facility has been resumed after 15th August 2021 as per Rule 138 E (a) and (b) of the CGST Rules, 2017. Now since the blocking facility has been resumed, anyone who does not file the GSTR 3B timely, will not be able to generate E-way Bills.
Read the conditions for blocking here: Blocking Of E-way Bill Generation Facility Resumed
9. Simplified Refund Procedures
The GST Refund procedures were simplified recently as the government gave clarifications regarding impending issues via GST circular 166. In cases of GST refund of excess balance in the electronic cash ledger (ECL), the refund application can be filed anytime. Another point that was clarified – the TDS/ TCS amount which remains unutilized in ECL after discharge of tax dues and other dues payable under CGST Act and rules made thereunder, CAN be refunded to the registered person as excess balance in the electronic cash ledger. Read all the refund-related clarifications here: Summaries of the latest GST circulars 165 and 166.
10. GSTR 9 Filing Exemption and GSTR 9C Self Certification
In July 2021, the CBIC exempted the requirement of filing the annual return i.e. Form GSTR 9 for taxpayers having AATO up to Rs. 2 crores for the financial year 2020-21. This change was made via GST Notification 31/21 dated 30-07-2021.
The CBIC has also exempted the requirement furnishing Form GSTR 9C for taxpayers having turnover up to Rs. 5 Crores for the financial year 2020-21 and onwards. This change was made via GST Notification 30/21 dated 30-07-2021.
GSTR 9C is an annual audit form applicable to all registered taxpayers having a turnover above 5 crores in a particular financial year. Until FY 20-21, it included a reconciliation statement for a particular financial year to be filed by taxpayers on or before 31st December after being certified by CAs/CMA. However, from 30th July 2021, the government has notified the removal of GST audit and certification done by CA/CMA and has ordered the taxpayers to self-certify their return. Read more: GSTR 9C Self Certification.
*****
Do you know about IRIS GST' Integrated Solution?
IRIS GST's Integrated Solution is a cloud-based software that brings all the tasks on a single platform. It is trusted by hundreds of companies across the country for their GST Filing, E-invoicing and E-way Bill management. This integrated solution is made available on a unified platform with a single log-in for ease of use i.e. get all our offerings – IRIS Sapphire, Topaz and, Onyx from a single log-in and shared business hierarchy. Our Integrated Solution with all in one 'GST Suite' will not just streamline the GST Filing, E-way Bill Management and E-invoice processes but also will reduce the time involved with 100% accuracy!
Our integrated solution includes: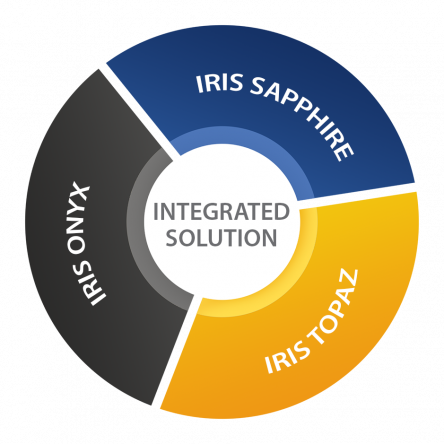 GST Software | IRIS Sapphire
An industry-trusted GST compliance tool for seamless data transformation from your ERP to GST data, vendor reconciliation, GST form filing and annual return filing
EWay Bill System | IRIS Topaz
A simple and hassle-free solution for mid-and large-sized businesses to generate, cancel, modify and update E-Way bills from a single platform.
E-Invoicing Solution
An advanced e-invoicing solution that can integrate with your billing systems in multiple ways and help you generate IRN seamlessly without disrupting your current business processes
IRIS GST Suite – Integrated Solution is everything you need to seamlessly:
Reconcile your GST Returns with vendor data
Maximize ITC
Never miss a due date
Create and manage every e-way bill
Generate IRN and QR Code for every invoice, all in one place!