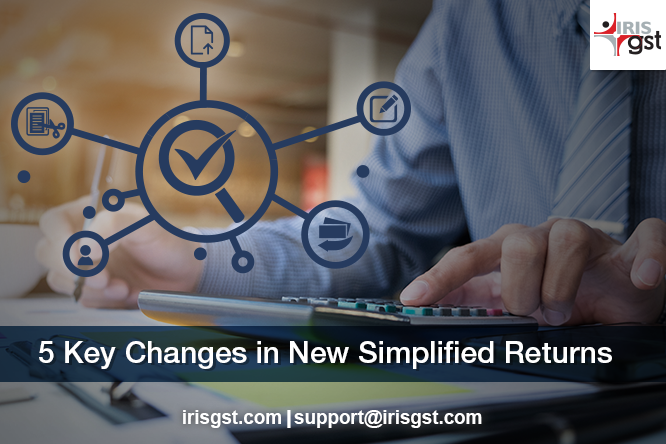 The Simplified returns are to be introduced under GST in order to simplify the complexities in the current return system. While the new GST system would be applicable for all taxpayers in India from October 2019 onwards, the pilot for the same has already been introduced on the common portal on a trial basis (Voluntary applicability for taxpayers). While the Indian taxpayers prepare themselves for GST 2.0, let's have a look at the key changes, a taxpayer will have to adhere to under simplified GST Returns.
Key changes in Simplified GST Returns
Under the Simplified Returns regime, a taxpayers may notice the below-given 5 key changes in the return filing system:
Defining Taxpayer's Profile
Since the simplified return system provides the taxpayer with various choices to choose from, a new module, namely the Taxpayer's Profilewill be introduced under a simplified return system. The Taxpayer's profile will help the taxpayer to set their preferences they wish to opt-in for such as the type of returns, frequency, etc.
The choice indicated by the taxpayers on their profile will help GSTN portal to determine/display the returns applicable to the taxpayer and the course of action that needs to be followed.
Uploading Invoice details along with HSN
As per the current GST scenario, the GSTR 1 data would comprise of invoice level data, wherein the data used to be aggregated at rate level. However, under the simplified returns, taxpayers will also be required to file HSN related data along with the invoice level data in their ANX 1.
Cutting down of disclosure requirements
The simplified GST returns will also require data on the state or aggregated level instead of detailed or line level data, thereby reducing the amount of data a taxpayer was required to disclose for their transactions such as B2CL, Advances, ITC, etc.
Formalising Channel for ITC Claim
Currently, in order to claim ITC, the taxpayer was required to self-compute his/her input tax credit and furnish the claim. Subsequently, for any discrepancy found between the ITC claim and GSTR 2A, the government would send a notice for the same. However, the simplified GST returns will regularise the whole ITC claiming process, i.e. instead of self-declaration of ITC, taxpayers will have to route it through their GST returns and annexures.
Auto-Computed Main returns
Contrasting to the current GST regime, where the taxpayer is required to file their monthly returns on a self-declaration basis, the main returns under new GST return system will be calculated by the government based on the information submitted by the taxpayer and the supplier in the annexures, along with the taxpayer's tax liability.
IRIS Business, a leading name amongst the GST Suvidha Providers (GSP) in India, offers easy and GST Solution (IRIS Sapphire) and E-way bill (IRIS Topaz) compliance. For any queries or to book your free demo, connect with us at support@irisgst.com.