The IRISGST Times
Volume 51  |  March, 2022
March has come to a dramatic end thanks to all the year-end hustle and bustle! And April is here to welcome the new financial year '2022-23' with open arms.
The e-invoicing mandate will be made mandatory for companies with an AATO of Rs. 20 Cr. and above, thus, we bring you significant articles and resources including – 6 Tasks to Complete Before you Start your E-invoicing Journey, GST Year-End Checklist: 14 Tasks To Be Completed, and 7 Ways How an E-invoicing Software can Simplify Your E-invoicing.
The feature highlight for the month is our IRIS GST's E-invoicing Software with its new facility for small businesses. And, our GST Compliance Calendar for April 2022 will never let you miss a due date. So let's dive straight in!
Regards,
Meghana Pawar,
Editor, IRISGST Times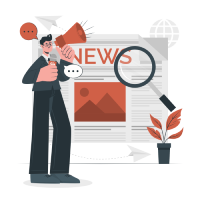 Latest GST News Updates
The Rajasthan Government extended the E-way Bill limit from Rs. 1 lakh to Rs. 2 lakh from April 2022 onwards. Read all the changes and updates here: Top GST News of the month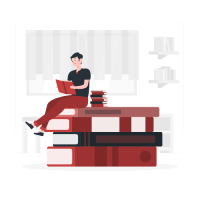 Reader's Choice of the Month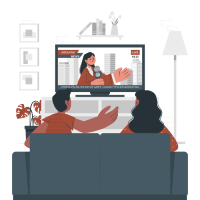 Top Finance News of the Month
Union Cabinet has approved an additional instalment of Dearness Allowance to Central Govt employees and Dearness Relief to pensioners w.e.f. 01.01.2022.
IRIS Business Service Limited, an authorised GSP since the past 5 years, is a listed regulatory technology company working in the compliance space for the past 20 years. IRIS GST, the GST Business Unit of IRIS, has helped more than 1000 companies meet their GST compliance in the past 5 years with the least impact on their day to day operations. IRIS E-invoicing has generated 20 Mn e-invoices since October 2020 with 99.99% up-time and has been awarded the Best Tax Technology Provider Award(Silver) – 2021 by TIOL.
IRIS e-invoicing can help you make your e-invoicing journey a smooth ride! It is a cloud-based advanced e-invoicing solution that can integrate with your billing systems in multiple ways and help you generate IRN seamlessly without disrupting your current business processes.
Here's how IRIS E-invoicing can help you:
Seamless Excel Utility Tool
Upload Invoice data in bulk
Send Invoice Data to IRP in bulk and generate e-invoices in real-time!
Follow your org hierarchy and manage multiple GSTINs under a single business hierarchy
Generate e-invoices and e-way bills on a single platform
Get standard invoice templates to print e-invoices (with QR Code)
Print and share invoices with customers and vendors through the platform
If you are looking for Automated, Integrated & Seamless e-invoicing Software, contact us today! IRIS GST is the most trusted technology provider in the market to help you with the best e-invoicing solution. Click the button below to have a look at our solution.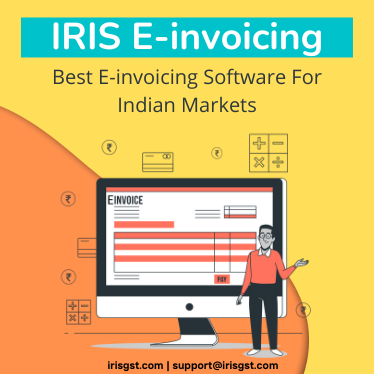 Testimonial
"We went live with IRIS E-invoicing and all our invoices got posted successfully. I would like to thank the entire IRIS GST team for their efforts in making this possible. As we all know that it was not an easy task and we had our share of challenges but to be able to go live on time with proper testing is a great feeling and I am thankful to the team for pulling through and delivering!"
– VANDIT SHAH, GIA INDIA
GST Compliance Calendar
Here is a comprehensive image of our GST Compliance Calendar. It has all the GST Compliance Due dates for April 2022 so that you never miss a GST due date!
You can refer to this GST Due Dates – April 2022 Calendar throughout the month and stay compliant!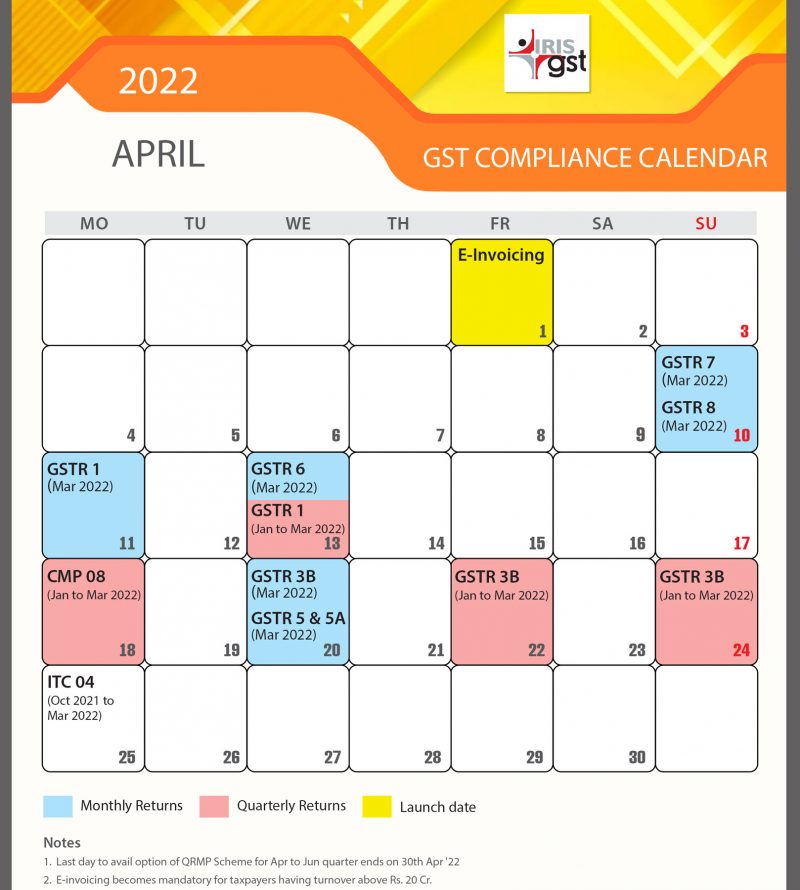 CONTACT US
Have feedback for us?  Want to request for our product demos? Please reach out to us at