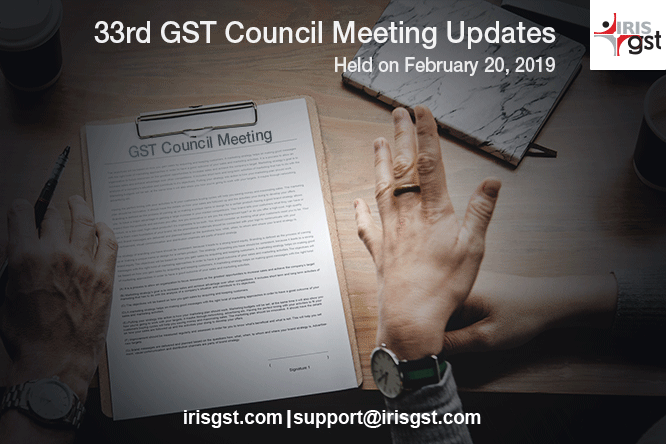 The 33rd GST council meeting was scheduled to be held on February 20th, 2019. However, state finance ministers requested a face-to-face discussion on special schemes for Real Estate Industry and issues in taxation system on lotteries. Thus, the union chairperson, Shri Arun Jaitley adjourned the GST council meeting until Sunday, the 24th of February 2019.
Decisions Taken:
The meeting announced a 2 days' extension to furnish form GSTR 3B for January 2019. The due date to file the form was 20th February 2019, which is now extended to 22nd February 2019.
Union Chairman, Arun Jaitley announced the new date for the GST council meet and adjourned the meet.
The primary agendas to look forward to in the 33rd GST Council Meet
Supply of residential properties under the composition scheme: continuing the discussion from the 32nd GST council, one of the primary agenda of 33rd GST council meet is to decide whether to bring the supply of residential properties in composition scheme or not.
GST Rate slashes on Cement from 28% to 18%: Cement is an essential necessity in modern construction sector and thus the tax levied on the same impacts greatly on the overall costing of the construction.  Thus, GST council has to decide the tax applicable on cement.
Duty drawback-like scheme under GST: The exporters in the nation do not receive compensation for taxes paid besides custom duty, which has further affecting their growth capabilities. GST officials confirmed the preparation of a scheme similar to Duty drawback and the same has to be introduced in GST council meet.
Know about 32nd GST Council Meet.