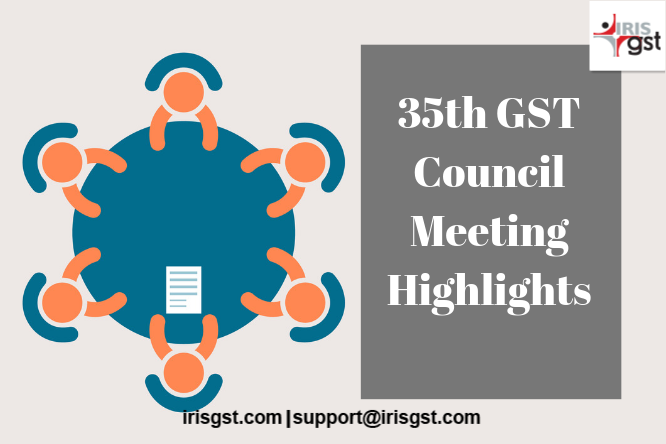 Update:
18th December 2019 – 38th GST Council Meeting held under the chairmanship of Union Finance Minister of India, Smt. N. Sitharaman. The key highlights of the meeting can be read here: 38th GST Council Meeting[
20 September 2019: 37th GST Council Meeting held on 20th September 2019. Read here 37th GST Council Meeting Highlights.
27th July 2019: The 36th GST Council Meeting was held on 27th July 2019 with the prime agenda being – reduction of GST rates applicable on Electric Vehicles.
The GST Council meeting held today under the chairmanship of newly elected Union Finance Minister Mrs. N Sitharaman was long awaited by the tax community. With GSTR 9 filing due this month end on 30th June after once been extended and an intermediate clarification by the ministry on no more extension, it was a matter of concern as the taxpayers are facing multiple issues in reconciliation.
The meeting has brought good news with extension in the filing dates for GSTR 9 filing. Please find the specific details below:
GSTR 9 Due Date:
1) Due date for filing GSTR 9 and 9 C has been extended.
Last date to file GSTR 9 has been extended by 2 months until 31st August 2019.
2) Simplified GST returns – Clarification for ITC
New GST Returns filing system will be applicable from 1st Jan, 2020.
3) E-Invoice Mechanism
In order to curb GST tax evasion, the finance minister approves the proposal of E-invoices. This is currently been suggestive towards 50 crores per annum. E-invoicing will help easy reconciliation between GSTR-1 and GSTR-3B and would ensure that the input tax credit does not get misused.
4) EWB Geotagging
The agenda for the 35th GST council might also include implementation of Geotagging or NHAI's FASTag, the electronic toll collection system, into GST E-way Bill system. However, no call has been taken on this yet.
5) Centralised AAAR
The GST Council was also supposed to consider setting up a national bench for Appellate Authorities for Advance Ruling (AAAR) to ensure orders passed by state AARs do not contradict. However, no call has been taken on this yet.
6)  Tax Slab Change
The FM was expected to consider slashing the GST rates on electric vehicles from their current slab of 12% to 5%. However, the all-powerful GST council will refer to a committee to come to a unanimous decision on cutting tax slab on electric vehicles. The Council has returned the decision on e-vehicles to the fitment committee for review.
7) NAA Tenure Extension
The National Anti-Profiteering Authority which was introduced to ensure passage of tax benefits to the consumers was about to finish its tenure in 5 months. As the profiteering complaints are yet to stop, the FM has given a 2 year extension to NAA in the 35th GST council meeting.
8) Other important announcements from the meeting
– Approves setting up tribunals in 26 states.
– GST rate on electric charger cut to 12% from 18%
To read our coverage on the previous Council Meet decisions, you may refer here:
While the period from 2017-2019 focussed on setting up a scalable and stable framework for a taxation system as wide as GST, we expect the Modi 2.0 era will focus on simplifying taxation process and to stop tax evasion.
IRIS Business is a leading GST Suvidha Provider (GSP) providing an easy and efficient solution for GST (IRIS Sapphire) and E-way bill compliance (IRIS Topaz). To have your GST queries solved and to know more about our solution, please contact us at support@irisgst.com.