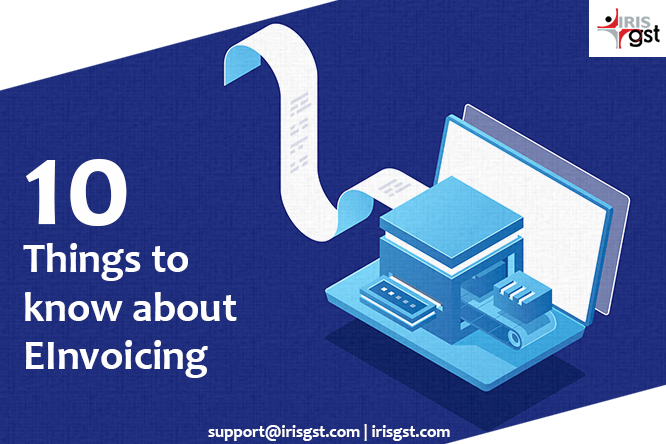 Updated on 23 July 2020:
 Taxpayers with turnover of Rs. 500 cr & above in the FY 2019-20 are mandated to generate e-invoice from October 2020. Login to the e-invoice portal enabled.
Updated on 14 May 2020: Version 1.02 of  E-Invoicing API specification were released on 14th May 2020 on sandbox. The specification mostly has changes related to validation and new API for Generate EWB by IRN
E-Invoice is going to be the norm once e-invoicing becomes mandatory in GST Regime. Expected to start from October 2020,  E-Invoicing under GST is made mandatory for taxpayers with aggregate turnover of more than ₹ 500 CR in the previous Financial Year (FY). And to help these taxpayers get accustomed to the new system, the option to voluntarily generate and report E-invoice was made available for the given category in Jan 2020. E-Invoice trial was enabled on the E-Invoicing Portal in August 2020.
Note: There has been an update in E-invoicing APIs. Version 1.03 of E-Invoice API specification is released for testing on 05th Aug 2020 in the sandbox.
To further help you understand important aspects of e-invoice and e-invoicing under GST; here is a list of things you should know about.
E-invoice under GST: 10 things to know about!
1. What is an E-invoice under E-invoicing mandate?
E-invoicing aka Electronic Invoicing is an electronic authentication mechanism under GST. Under the mechanism, all the B2B invoices generated by a business (agg. turnover >  ₹ 500 CR)will have to be authenticated on the GSTN portal, electronically. Furthermore, to manage these invoices, the Invoice Registration Portal (IRP) will issue a unique identification number for every invoice called as Invoice Reference Number (IRN).
Once an e-invoice has been authenticated, its details shall be made available on the GST portal and EWB portal in real-time.
2. What are the benefits of E-invoicing under GST?
Tax leakage and frauds using fake invoices have been an issue the government is trying to fight even before the GST era. E-invoicing in India is proposed to put an end to this by mandating authorization of every invoice from the government portal.
Besides plugging the tax leakage, the implementation of the e-invoicing under GST shall be beneficial for taxpayers as well.
Some of the key benefits are:
One-time reporting of the invoicing details for all your GST filings
Minimized invoice mismatches during reconciliation
The standard invoicing system means interoperability between multiple software
Real-time tracking of invoices prepared by the supplier
Automated return filing process as necessary details shall be auto-populated for various returns and even EWB (Part A)
Easy and Precise ITC claim
3. How to generate an e-invoice in GST?
To generate a e-invoice, following steps need to be followed:
An Invoice is created using an accounting or billing software as per the prescribed format for E-invoicing.
A supplier can generate a unique Invoice Reference Number (IRN) using a standard hash-generation algorithm. Generation of IRN by the supplier is optional. In the absence of IRN, the IRP system of government will generate the same.
JSON file for each B2B invoice (generated through the accounting software or any third party tool), along with the IRN, if generated is uploaded on the Invoice Registration Portal (IRP)
The IRP will validate the generated hash/IRN attached with JSON (if uploaded by the supplier)or generate an IRN and authenticate the file against the central registry of GST for any duplication. The IRN will be the unique identity of the E-invoice for the entire financial year.
Upon successful verification, the invoice will be updated with IRP's digital signature on the invoice data and a QR code will be added to the JSON file.
The uploaded data will be shared with the E-way bill and GST system, which will be used for auto-population of GST Return
The portal will send the digitally signed JSON along with IRN and QR code back to the supplier. The invoice will also be sent to the buyer on their registered email id.
4. What are the details contained in an E-invoice?
As per the draft format generated by the GSTN, an e-Invoice will contain the following parts-
E-invoice schema: This part will consist of the technical field name and the description of each field. It will also specify if a field is mandatory or not, and has a few sample values along with explanatory notes.
Masters: Masters will specify the set of inputs for certain fields, that are pre-defined by GSTN itself. It includes fields like UQC, State Code, invoice type, supply type, etc.
E-invoice template: The template is as per the GST rules and enables the reader to correlate the terms used in other sheets. The mandatory fields are marked in green and optional fields are marked in yellow.
To know more about e-invoicing mandate
Beginner's guide to
e-invoicing mandate in India
5. What software/application can be used to generate an E-invoice?
As opposed to contemporary belief that an E-invoice has to be generated on the common portal, an E-invoice can be generated through any software/tool that supports the given e-Invoicing format.
6. What is the information required to generate an E-Invoice?
Supplier GSTIN,
Supplier's invoice number and,
Financial year (YYYY-YY).
Details of supplier & consignee
Type of supply

If it is B2B or B2C
If it attracts RCM
If it attracts TDS/TCS
If it is an Export, Supply made to SEZ or Deemed export

Details of supply
Authorisation by designed authority
| | | | | | | | |
| --- | --- | --- | --- | --- | --- | --- | --- |
| Item Description | Quantity | Rate | Assessable Value | GST Rate | IGST Value | CGST Value | SGST Value |
| | | | | | | | |
7. Is there any official website for the e-invoice generation?
A taxpayer can use the following Common GST Electronic Portal to for the preparation of the E-invoice in terms of rule 48(4):
einvoice1.gst.gov.in
einvoice2.gst.gov.in
einvoice3.gst.gov.in
einvoice4.gst.gov.in
einvoice5.gst.gov.in
einvoice6.gst.gov.in
einvoice7.gst.gov.in;
einvoice8.gst.gov.in;
einvoice9.gst.gov.in
einvoice10.gst.gov.in
8. Is QR code mandatory for e-Invoicing
A quick response or QR-code based e-Invoice is mandatory only if the following conditions are met
Aggregate turnover of the taxpayers exceeds  ₹100 CR
The supply is made to an unregistered person
Update 5 August 2020: QR Code is mandatory for all B2C transactions. Read here to know more about B2C and QR Code in e-invoicing.
Update 23 July 2020: An update on QR code is awaited as the mandate now only covers companies with Rs. 500 cr or above turnover for FY 2019-20.
.
Details included in the QR code
The QR code shall consist of the following details
GSTIN of supplier
GSTIN of Recipient
Invoice number as given by Supplier
Date of generation of invoice
Invoice value (taxable value and gross tax)
Number of line items.
HSN Code of the main item (the line item having the highest taxable value)
Unique Invoice Reference Number (hash)
9. Can amendments be made to an E-Invoice?
Yes, a taxpayer can amend an E-invoice. However, the amendments can be done only on the GSTN portal.
10. Can a taxpayer cancel an E-invoice?
The taxpayer cannot cancel an E-invoice partially. The E-invoice is required to be cancelled fully and reported to the IRN within 24 hours.
Any cancellation done after 24 hours of an E-invoice generation cannot be reported to the IRN portal. In such cases, the taxpayer will have to manually update/cancel the invoice on the GST portal before the returns are filed.
Quick Notes
An E-invoice does not mean an invoice generated on an electronic portal. But it is an invoice that is reported to and authenticated by the GSTN portal
The maximum line of items allowed in an invoice is 100
Although the life span of an e-invoice is limited to 24 hours on the IRP portal, a validated e-invoice will be available on the GSTN portal for the entire financial year.
IRIS ONYX – A Smart E-invoicing Solution!
It is a cloud-based advanced e-invoicing solution that can integrate with your billing systems in multiple ways and help you generate IRN seamlessly without disrupting your current business processes.