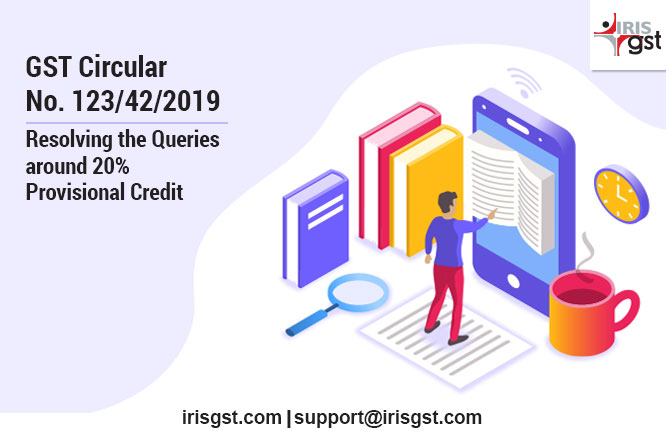 Latest Updates : 3rd April 2020
Notification No: 30/2020-Central Tax, dt. 03-04-2020
CBIC under COVID 19 relief measures has relaxed the provisions of Rule 36(4), which means ITC in GSTR3B for Feb till Aug 2020 can be claimed as per Books/ Purchase register without considering the ITC as per GSTR 2A. However, the ITC already claimed has to be matched in a consolidated manner with GSTR 2A before filing GSTR 3B in September 2020
Hence, there would be no loss of credit to the buyers if suppliers fails to file the returns on time till 30th August
Ahead of GSTR3B due date, CBIC has resolved queries on provisional ITC @ 10% through Circular No. 123/42/2019-GST
Kindly note 10% provisional ITC is applicable w.e.f.1 Jan 2020 which was earlier restricted to 20% for the period from 9 Oct 2019 to 31 Dec 2019
Following is the list of clarifications issued:
Restriction is not imposed through the common portal hence the taxpayer can avail credit on self-assessment basis for sub-rule (4) of rule 36
Taxpayers can avail full ITC in respect of following
IGST paid on import,
documents issued under RCM,
credit received from ISD etc.
i.e. which are outside the ambit of sub-section (1) of section 37
Restriction of 36(4) will be applicable only on the invoices / debit notes on which credit is availed after 09.10.2019
Credit available under sub-rule (4) of rule 36 is linked to total eligible credit from all suppliers against all supplies whose details have been uploaded by the suppliers. Hence restriction imposed is not supplier wise
The cut-off date to compute the eligible ITC is due date of filing GSTR-1
ITC that can be claimed for particular month would be

110

% of eligible ITC or Total ITC as per invoices received, whichever is less
| | | | | | | |
| --- | --- | --- | --- | --- | --- | --- |
| Case | Credit as per Books | Credit reflected in GSTR-2A | Credit not reflected in GSTR-2A | Provisional Credit@10% | Amount eligible as per 36(4) | Total eligible credit claimed |
| 1 | 10 | 7 | 3 | 0.7 | 0.7 | 7.7 |
| 2 | 10 | 9.7 | 1 | 1.8 | 1 | 10 |
The balance ITC that is left to be claimed would be eligible post reflection in GSTR-2A to the extent of 110%, provided total ITC claimed cannot exceed actual ITC
Hence, for case 1 unavailed credit can be claimed in succeeding tax periods only when respective invoices are uploaded by the supplier
Queries which remain unresolved
Reconciliation of eligible ITC and Total ITC is to be done on monthly basis or YTD Basis. Since, there will always be gap between the date of invoice booking by recipient and date of uploading invoices by supplier
Also, in case supplier filing returns on quarterly basis, purchaser will end up having low ITC Eligibility
Although the circular have provided clarification on major issues but still the ambiguity persist among the taxpayers minds
IRIS GST is official GST Suvidha Provider (GSP) in India, offering premium GST compliance tools like GST Returns (IRIS Sapphire)and  Eway Bill generation (IRIS Topaz). With features such as Advance Reconciliation, Smart Reports, Fuzzy Logic, Vendor Management, Smart Dashboard, User Roles, etc. IRIS GST ensures you a hassle-free GST compliance.
For any queries or to more about our products, kindly contact us at support@irisgst.com