Form REG-03 is a notice where additional information/clarification/documents is asked from the applicant. This information/clarification/document could relate to various applications like registration, amendment or cancellation.
Here are the details of the form REG-03:
Just like other forms, basic information about applicants needs to be provided in this form too. This basic information includes:
Name of the applicant
Address
GSTIN
Application Reference No. (ARN)
Date
This information serves as the first section of Form GST REG-03.
The second section of the form directed towards the applicant by the proper officer stating the details of the taxpayer's application and that they are not satisfied with the same after their examination procedure. Then they provide reasons for the dissatisfaction in the third section in detail for the taxpayer's understanding.
In the fourth section, the form states the date by which the taxpayer is expected to send their reply and if necessary be present before the authorities for further detailed inspection.
The last section of form GST REG-03 states that if the concerned officer does not receive any response by the mentioned date then the application is liable for rejection. No further notice is given for this procedure.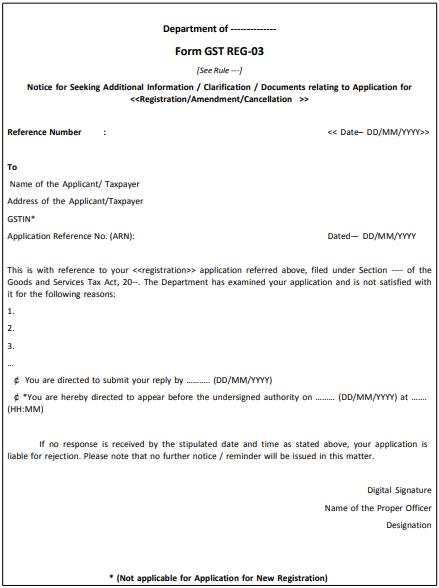 ****
IRIS GST helps all its readers with its premium product – IRIS Sapphire which is a cloud-based GST Return Filing Software and has advanced reconciliation module with strong reconciliation rules like match invoices across FY, beyond invoice number, fuzzy logic and user-defined tolerance that helps you completely match your purchase data with GSTR 2A and maximize your ITC.