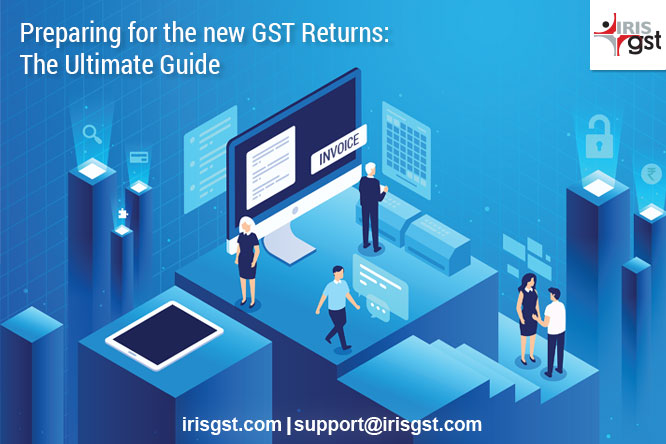 As per 39th GST Council Meeting, the New Returns are extended until October 2020.
As they say, change is the only constant!
And this is no different in the GST regime. Soon, the entire filing mechanism in GST is going to change with the introduction of new returns. A move long awaited by the industry, the new returns is supposed to come into effect from April 2020 after multiple deferments.
While the government is preparing the systems for the new returns, the taxpayer community also need to get their internal teams and systems ready for the new returns.
The GST Law is not a simple law. But, government this time is head-bound to make it simpler for the taxpayer community. They are receptive to industry suggestions yet adamant on fighting against tax evasion. New returns will pave the way to this balance.
The new returns, which are supposed to be simplified, if followed in complete sense, can actually decrease the compliance processes. With real time invoice matching and monthly reconciliations, it will not only make compliance easier but would also boost tax revenues. Here are few challenges that taxpayers need to address to make a smooth transition to new returns:
1. Real-time Invoice Upload
One of the prime highlights of the new GST returns is real-time invoice upload. Under this rule, the taxpayer will be required to upload the invoice data on a regular basis in form GST Annexure 1. This would ensure that every business transaction is channelized in the government system. The utility will help curb tax evasion in the country.
Concern and Solution:
Real time upload of invoices is best managed when the processes are automated. For small businesses, who rely on physical invoices and manual activities to get the invoices and accounting in place, real-time invoice upload could become a burden as, they either lack the technology or manpower to maintain real-time invoicing.
However, government is offering free business and accounting software for such businesses and this can be the right time to on-board one. Utilize this time to go digital and iron out all process discrepancies making it easier to upload invoices in the system when the rule kicks in.
For large corporate, you will have to ensure that your internal systems are seamlessly connected to the Government's system so that the real-time invoice upload can be achieved. Along with taking care of your compliance process, it could be worth checking and providing support to your supply chain for their GST compliance. Do thorough analyses of your vendors, educate, consider providing them support, and as a last resort, eliminate. Because, your ITC claim will be completely dependent on the real time invoice upload of your vendors.
2. Monthly Reconciliation
With the 20% capping rule on ITC which came into effect from Oct 2019, doing a monthly reconciliation of purchase invoice has become a necessity. Additionally, in the new returns, taking actions on the invoices will formally become a step in GST return filing.  The new system prompts the buyer to accept, reject or mark an invoice as pending, once the supplier has uploaded the invoice. These actions can significantly influence the ITC a taxpayer can claim.
Concern and Solution:
Thus, in order to ensure maximum ITC, the taxpayer will be required to check whether the invoices uploaded are accurate and there is no mismatch between the taxpayer's book of accounts and invoices uploaded by the supplier.
Moreover, since the invoices are being uploaded on a real-time basis, the buyer will also need to reconcile invoices real-time so that corrections if any can be affected within the due dates as prescribed. This needs to be continuous exercise and in many cases would require multiple vendor communication.
While for the businesses where number of invoices is less, monthly reconciliation can still be manually managed. However, where the invoices numbers are high and there is a time lag between the receipt and  booking of purchase invoices, a robust and intelligent system to do the matching of invoices will be essential. The more comprehensive reconciliation process and tracking mechanism provided by your GST software, the better you are at knowing status of your reconciliations and the vendors with whom follow ups are needed. Monthly reconciliation can be a crucial step in your ITC claim so choose the service provider wisely.
3. Vendor communication
Once you have done the reconciliation, next important step is vendor communication, which in itself will take a key seat in the new returns regime.
Concern and Solution:
Vendor communication, as such is a general business process. However due to formalization of actions on invoices in GST returns and its impact on the ITC claim of the buyers, it becomes a crucial monthly activity. New GST returns are introduced as an inter-dependent compliance system, whereby compliance by supplier directly impacts the ITC claim of the buyer. While monthly reconciliation becomes a necessity, swift communication with the vendor and speedy resolution of the differences is equally important.
Hence, vendor communication is vital while following up for missing invoices and reconciling differences. This is one of the foremost things, which needs to be taken care of by a taxpayer for hassle-free submission of GST returns.
While for small businesses where number of vendors is few, it is still manageable. But for large corporate where the number of vendors can range from few hundreds to thousands, and that too few vendors servicing multiple GSTINs and few others servicing some other combinations, this entire reconciliation process can be a mess.
Hence, this is the right time to look for some GST software that come integrated with vendor management modules. Look for features like vendor master- where you can maintain the data of all your vendors and vendor communication – so that you can mail the mismatches directly from the system.
4. Managing Adjustments
One of the processes that have been of utmost concern for the taxpayer is managing adjustment entries in case of ITC reversals. Under the new GST system, ITC is credited automatically onto the recipient's electronic ledger.
Concern and Solution:
While in usual scenario, the automatic credit is beneficial, in case of undelivered or damaged goods, for which a credit note is yet to be received, the ITC reversal process can be complex.
To add more to it, the adjustment entries are required to be passed on the summary level instead of invoice level. This adds yet another level of complexity for the organisation with large volumes of data.
This will call for efficient systems that can track entries at invoice level vendor wise. As a taxpayer, you will be interested to know summarized report on ITC stuck due to undelivered/damaged goods or ineligible ITC or ITC reversed etc. Hence, prepare your systems to handle data at invoice level.
5. e-Invoicing
While businesses are preparing for the new returns, another aspect that they cannot side-line in the preparation is e-invoicing as both will go hand in hand. A transformational move by the Government, e-invoicing can help curb tax evasion drastically and also bring efficiency and ease in GST compliance.
Concern and Solution:
Currently, there is no proper format prescribed for invoicing. There are few mandatory fields that are required to be captured in the invoice and then there are others which are recommended. Hence, most of the businesses only capture mandatory fields like GSTIN, invoice amount, etc. However, once e-invoice sets in, businesses need to recalibrate their ERP systems to handle invoicing as per the e-invoice mandate.
And this is the right time to do so when the implementation of E-invoicing is all set to be rolled down for B2B transactions from the month of January 2020.  In fact, GSTN is holding technical workshops with ERP service providers to incorporate changes in their system to confirm to the mandate. Ask your service providers to be a part of the same and upgrade the systems when there is time.
6. Keeping Track with all Updates
As we said earlier, GST Law is not a simple law. And keeping track with all the updates in-tandem with your ongoing business processes can be at times… overwhelming. With every transition from an established system to a newer system, there is a learning curve involved. And it becomes easier to traverse the path if you have an expert to guide. In absence of this guidance, keeping up with every new update can be chaotic and can give rise to confusion. And in cases like this where compliance is involved, even a little mistake may lead to erroneous filings or non-compliance eventually leading to lack of faith in the system.
Hence, we believe that for a smoother implementation of the new returns, the role of GST officials, Chartered Accountants and GSPs will be crucial. Choose your buddies wisely. Check for their previous track record, read their customer testimonials and assess their compliance capabilities. This will help you in the long run.
Transition to the new GST system
The government has already released the prototype for the new GST returns. Also, with the extended implementation, the taxpayer will have enough time to adapt to the new system. However, the prototype does not have all the features of the actual offline tool, while multiple aspects of the new GST system under development.
Under such a scenario, a GST Suvidha Provider (GSP) can prove to be a reliable ally to help the taxpayer adapt to the new tax forms and further simplify the filing process.
IRIS GST is one of the leading GSP in India with its GST Software – IRIS Sapphire. Ever since the introduction of GST, IRIS Sapphire has helped taxpayer hand-in-hand with the GST amendments and has helped them conquer their compliance journey, without any hassle.
For any queries or to know more about our GST Compliance solutions, kindly drop us a mail at support@irisgst.com.