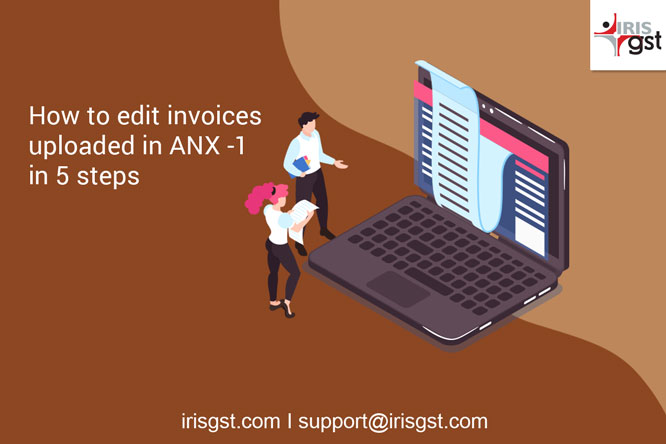 As per 39th GST Council Meeting, the New Returns are extended until October 2020.
As you may know, new Returns are to be implemented from October 2020. Under the reign of new return forms, a taxpayer shall be able to make edits/amendments, as per the rules given forth by the GST Council. We have compiled a list of all the amendments available to the taxpayer, which are as follows,
1. Supplier side Amendment –
The return system provides for all editing or amendments from the supplier's side only. The recipient will have the option to reset/unlock or reject a document but editing of or amendment to the same shall be made by the supplier only.
2. Editing of documents up to the 10th of the following month –
Details of the documents uploaded up to the 10th of the following month may be edited by the supplier up to the said date (10th day of the following month) only if such documents are not accepted by the recipient. If a document has already been accepted (up to the 10th) by the recipient, then such document has to be reset/unlocked by the recipient and only then, it can be edited by the supplier up to the 10th day of the following month.
3. Editing of documents after 10th of the following month
The details of the documents uploaded by the supplier up to the 10th day of the filing month or quarter will be auto-populated and made available to the recipient in FORM GST ANX-2 to accept, reject or to keep the document pending.
The supplier may edit the rejected documents before filing any subsequent return for any month or quarter. However, credit in respect of the document so edited or uploaded shall be made available through the next open FORM GST ANX-2 for the recipient. However, the liability for such edited documents will be accounted for in the tax period (month or quarter) in which the supplier has uploaded the documents.
4. Shifting of Documents-
In certain situations, the particulars of the document may be correct but the document has been reported in the wrong table. Therefore, when the recipient rejects such documents, instead of amending the document, a facility of shifting such documents to the appropriate table will be provided.
5. Amendment of documents relating to supplies made composition taxpayers, ISD, UIN holders etc.)-
The documents relating to such supplies may be amended by the supplier at any time and the same shall not be dependent upon the action taken (accept/reject/pending) by the recipient.
To know more about new and simplified forms, Sahaj and Sugam.
IRIS Business is a leading GST Suvidha Provider (GSP) providing an easy and efficient solution for GST (IRIS Sapphire) and E-way bill (IRIS Topaz) compliance. To have your GST queries solved and to know more about our solution, please contact us at support@irisgst.com.