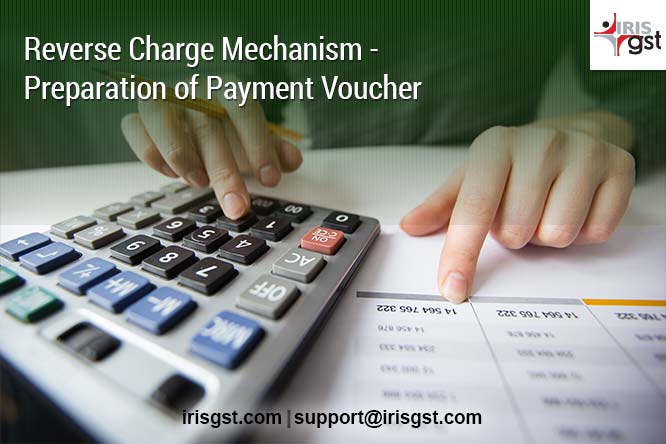 Payment Voucher under Reverse Charge Mechanism (RCM) in GST is a proof of transaction between taxpayer and unregistered supplier. Under GST, when a receiver procures taxable supply of goods and/or services from an unregistered person, the liability of GST payment falls on the receiver of goods and/or services. Such a mechanism, under GST, is termed as Reverse Charge Mechanism(RCM) . As per the Reverse Charge Mechanism(RCM) , the receiver (Taxpayer) holds the responsibility to generate invoices in respect of goods and/or services received. Additionally, the receiver should issue a payment voucher to the unregistered supplier. This is issued while  making the payment for the given supplies.
Preparation of Payment Voucher  under Reverse Charge Mechanism in GST
As per CGST Act, 2017 vide section 31(3)(g), the recipient (a registered taxpayer) is required to issue a payment voucher to the supplier during the payment of transactions(goods or services) on which reverse charge is applicable.
This payment voucher under RCM should consist of details as given below:
Name, address of the supplier.
A consecutive serial number not exceeding 16 characters of any combination which unique for the financial year.
Date of issue of payment voucher.
Name, address, and GSTIN of the recipient.
Description of the goods and service on which tax is paid on reverse charge basis.
Amount paid to the supplier.
The rate and amount of tax charged under different heads CGST, SGST/UTGST or IGST and cess.
Place of supply if the transaction is interstate along with the state name and code.
A signature or Digital signature of the supplier or the authorized representative of the supplier
The need for Payment Voucher as per Reverse Charge Mechanism
Preparation of payment voucher is a mandatory action under Reverse Charge Mechanism (RCM). It acts as an evidence for the transaction taken place between the recipient and the supplier (a non-registered person). It acts as a proof of monetary transaction.
IRIS GST is a leading GST Suvidha Provider (GSP) in India, providing an easy and efficient GST Software (IRIS Sapphire) and E-way bill System (IRIS Topaz).
For any GST related queries or to know more about our solution, please contact us at support@irisgst.com