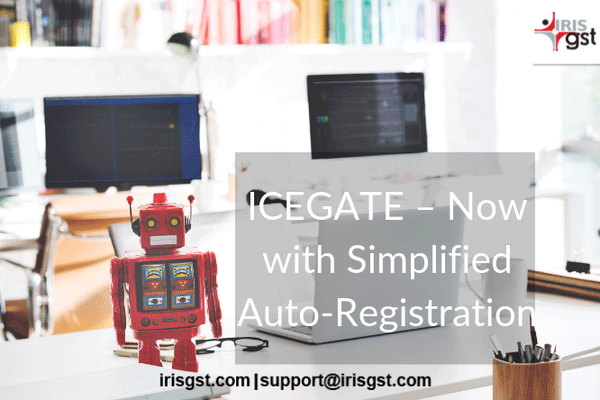 ICEGATE is an abbreviation for Indian Customs Electronic Commerce/Electronic Data Interchange (EC/EDI) Gateway.
What is ICEGATE
ICEGATE provides e-filing services to the importers, exporters and other trading partners in India. It is responsible to fulfil the custom department's Electronic Commerce/Electronic Data Interchange (EC/EDI) and data communication needs.
What are the facilities one can avail with ICEGATE Registration?
Primarily, ICEGATE is required for online filing of Bill of Entry, Shipping bills and other documents. Besides these, some of the other services hosted by ICEGATE are,
E-payment,
Document tracking status at Customs EDI,
Online registration for IPR,
IE code status verification,
online verification of DEPB/EPCG/DES licenses,
PAN-based data search
Simplified Auto Registration
Until now, ICEGATE's registration process would require the digital signature of the IEC holder among other documents, which would further need approval from the officials. However, in an attempt to simplify the process and attract importers and exporters to register on the portal, CBIC has eliminated the need of digital Signature, PAN verification and approval procedure for the registration process. Thus, as per the new advisory for simplified registration, IEC holders can register on ICEGATE with his/her IEC and at least one GSTIN attached to the application followed by OTP verification via E-mail and mobile number.
How to Register on ICEGATE?
To register on the portal, follow the below-given steps
Provide your IEC number and GSTIN, along with a temporary password sent from ICEGATE on your registered mobile number.
Once you have logged in with your temporary password, you will be required to enter login credentials (Unique login Id and password) of your choice.
On the redirected page, enter the OTP sent to you on your mobile number as well as E-mail id.
Upon successful verification of your OTP, click on 'Finish' button to complete your registration process.
P.S. Before completing the registration process, the user can also change the E-mail Id and Mobile number associated with his/her IEC/GSTIN.
Benefits ICEGATE Registration
ICEGATE portal facilitates E-filing of both the import or export declarations.
This also allows the Customs to respond to exporters and importers after assessing shipping bills and bills of entry.
The portal provides a sort of guarantee that the declarations filed through the digital signatures allocated by Customs, acting as a Certification Authority under the IT Act, 2000 will be not be made invalid.
The ICEGATE also offers a 24X7-helpdesk facility for the trading partners.
Who can register at ICEGATE?
Businesspersons who are involved can register and enjoy the facilities of ICEGATE. Check the list below:
Exports
Imports
Import General Manifest (IGM)
Export General Manifest (EGM)
Consol Manifest
The customs department has been greatly benefited with the introduction of ICEGATE (Indian Customs and Central Excise Electronic Commerce Gateway). The customs department has now become more accountable and minimized complaints on delay in delivery of consignments from both, the exporters and importers.
*****
IRIS GST Software is trusted by top Indian companies!
It is a cloud-based GST software that helps you to automate your GST Return filing, optimise Reconciliation results and increase your ITC claim.
Using IRIS GST Software can simplify all your mundane tasks of GST Return filing like invoice data preparation and reconciliation by allowing bulk operations, automation and advanced reconciliation. Read all about the advanced features of IRIS GST Software here!
Get to see the real working of the software, schedule a free demo or reach out to us with all your queries at support@irisgst.com