There were several new GST updates in July. We have covered them all in this newsletter for your quick reference. In this issue, we have covered articles on varied subjects including 'Ultimate Guide to E-way Bill Management', '10 tips to start using GST Data for Lending' and 'Important changes related to QRMP Scheme'. Also, do not miss reading the 'Top GST News of the month' to stay abreast with the latest GST updates. 
Here, we also cover our feature highlight – IRIS Topaz, our smart E-way Bill Solution that can help you on your journey to a smooth EWB management. 
Lastly, we share the link to our compliance calendar for August 2021 to help you stay compliant. 
Regards,
Meghana Pawar,
Editor, IRISGST Times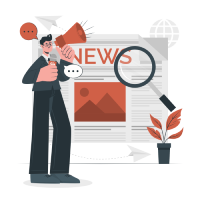 Latest GST News Updates
Recently, the CBIC notified changes in threshold for filing of the GSTR 9 and updates around self certification of GSTR 9C for the Financial Year 2020-21. Read our Top GST News of the month article for all the updates.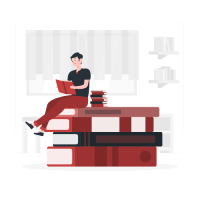 Readers Choice of the Month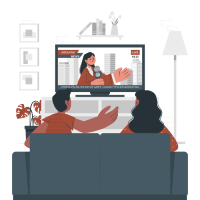 Top Finance News of the Month
The Finance Ministry launched e-RUPI which is a prepaid voucher. The purpose of this new payment mechanism is to ensure that the government can extend monetary support directly to the citizens in a 'leakproof' manner. It is expected that the 'unbanked section' will be benefited the most.
Product Updates
Neena Sethi, Product Head IRIS Topaz
GST has evolved a lot since its inception and lately, business owners, companies, and taxpayers have witnessed a sea of changes in the GST arena. We at IRIS GST have been helping our clients and everyone around by conducting multiple webinars, sharing free ebooks and articles on topics like e-invoicing, latest GST changes, trends and news updates. 
Predominantly, our E-way Bill Solution, IRIS TOPAZ has been helping our clients with planning and managing their Eway Bills in an easy and automated way, on the go! It is available to clients in multiple ways – on cloud, as desktop utility, as APIs or even clubbed with e-invoicing solution.  The solution caters to the needs of suppliers, and consignors alike. It enables the users to replicate the company's business hierarchy and Eway bill assignment roles to mimic sales and dispatch processes.
With IRIS Topaz, you can…
Generate bulk EWay Bill, Mass Update/Modify and/or Cancel when required

Extend Validity of E-Way bill on the go

Create Consolidated E-Way Bill as well as Multi-vehicle E-Way Bills

Update Part B in cases where Part A is already created

Auto-distance calculation and auto-sum 
Now that the government has streamlined the generation of E-way Bill with E-Invoicing, our strong support team has been helping our clients with a smooth transition. 
For a smart E-way Bill Management solution and a smooth EWB journey, choose IRIS Topaz. Schedule a free demo today: support@irisgt.com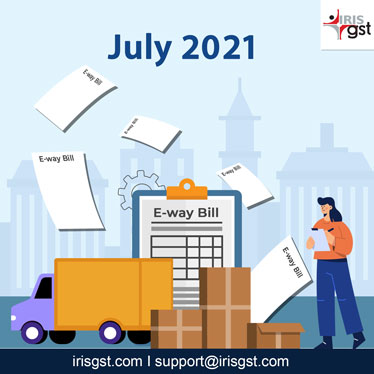 E-way Bill Generation Witnesses a Spike!
E-way Bill generation has improved significantly in July 2021, which surely indicates the recovery of our economy. It also increases the possibility of having a significantly higher GST collection in August. 
As per the data issued by the GST Network, the daily average e-way bills in July was way higher than that of the average for June. Over 64.1 million E-way Bills were generated in July and that makes it the second highest after the peak of 71.2 million in April.
E-way bills in July amounted to 17.4% higher versus June which were around 54.6 million EWBs that were issued.
GST Compliance Calendar
Here is a comprehensive image of our GST Compliance Calendar for August. It has all the GST Compliance Due dates for August 2021 so that you never miss a due date! You can read the complete article here: GST Compliance Calendar August 2021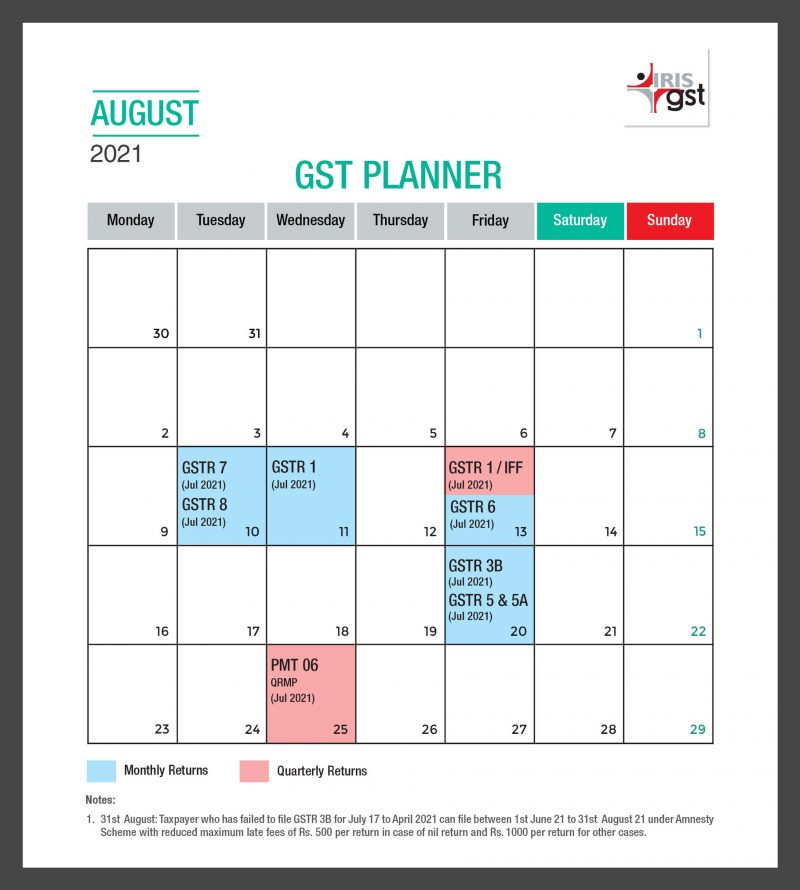 CONTACT US
Have feedback for us?  Want to request for our product demos? Please reach out to us at
Website :  https://irisgst.com/
Phone :  +91 22 6723 1000
Email :  support@irisgst.com