Do check out the new version of the app –
IRIS Peridot 5.0
which is bundled up with advanced features and a brand new UI for easy navigation! 
Good becomes better!
With your most loved Peridot, you can just scan any GSTIN or Voice Search business name to know the taxpayer type, filing history, eligibility to collect GST, and a lot more!
E-Invoicing being a new GST compliance era,  it's time to equip yourself with all new Peridot Version which is not just E-Invoicing ready but also offers diverse ways to search and save GST Info of any of your vendor, customer or counterparties and so on.
So, what more will you be able to achieve with the new version of IRIS Peridot?
Here is a list of what's in store for you:
Search GSTIN by Name: The app that currently lets you scan GSTIN will now let you even search GSTINs by Name*. And this is available not only by typing but with Voice Search as well. We search in both legal and trade names. As businesses are more familiar and known for their trade names, that is what we display in the summarised search results with an additional option to filter the results by State. So if you see a result that doesn't contain your search text, it would be in the legal name. And to know the complete details of the GSTIN, just click on the desired search result.
Search GSTIN by PAN: As we all are aware, a business entity can have more than one GSTIN. Search GSTIN by PAN* will help you get GSTINs belonging to the PAN and furthermore, you can filter the results by State to get the required GSTIN. Similar to the name search, here also we display the Trade name of the business. In case you find different trade names for the same PAN, need not worry, that is how the business might have registered themselves on GST Portal.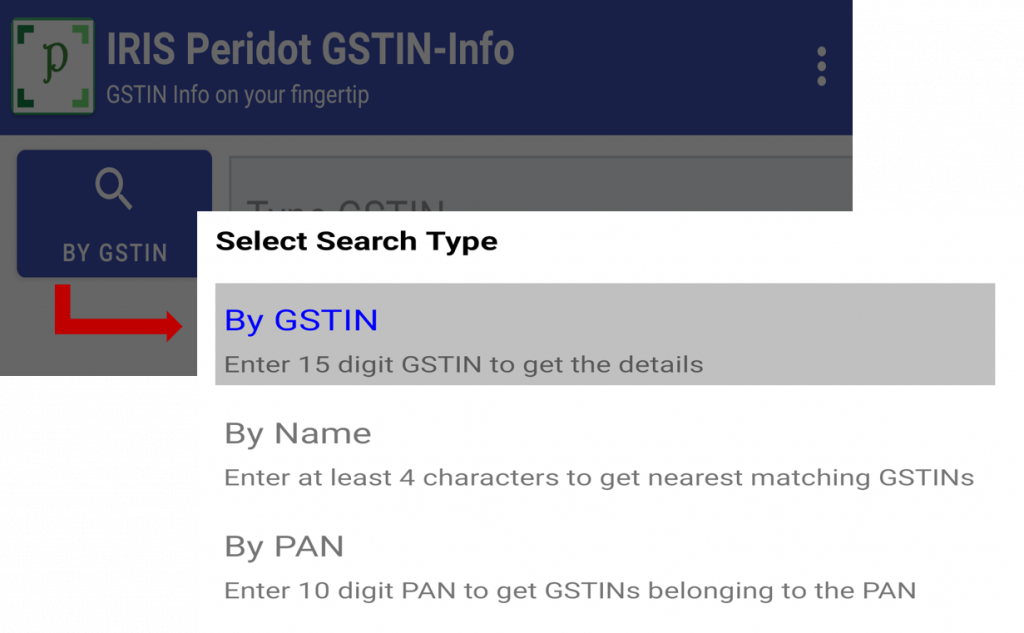 *Both PAN and Name search results are from our Peridot Database.
Voice Search any GSTIN: Now, with the new voice search feature, you can search any GSTIN on the go! No need to even punch the GSTIN or the trade/legal name. Yes, we make Peridot better with each upgrade!
Get Compliance Report of any business: Are you dealing with vendors or customers or counterparties having multiple GSTINs? And do you check their compliances one by one? Here is the new feature update for you! In addition to search by name or PAN, get consolidated return filing status of all the GSTINs associated with the same PAN in one go. In the Compliance Report, we provide the latest return filing status of all the active and regular GSTINs registered under the same PAN for the latest tax period.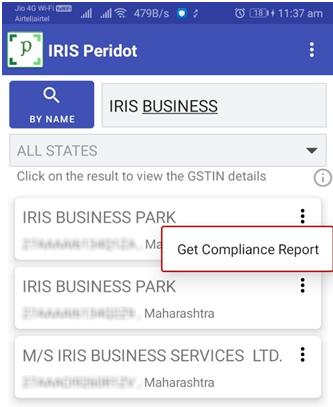 Create Watchlist: GSTINs which you search frequently or want to keep a track of, you can now add them as your favourite and will be available as your watchlist. And what's more, you can do a bulk refresh for all your watchlisted GSTINs and know if they have filed any return and if it was on time. If the GST Return filing is not on time, the same is marked as 'Late'. This bulk refresh and GST filing status is defined only for main returns.
QR Scanner: With e-invoicing gone LIVE, how could we not include verification QR Codes generated from the E-invoice system! And along with e-invoice QR code, scanning of e-way bill QR codes are also included. Important to note, QR codes generated from the live E-invoice system will be verified for digital signature. The QR codes generated from the trial e-invoice system will be scanned, however, its signature will not be verified.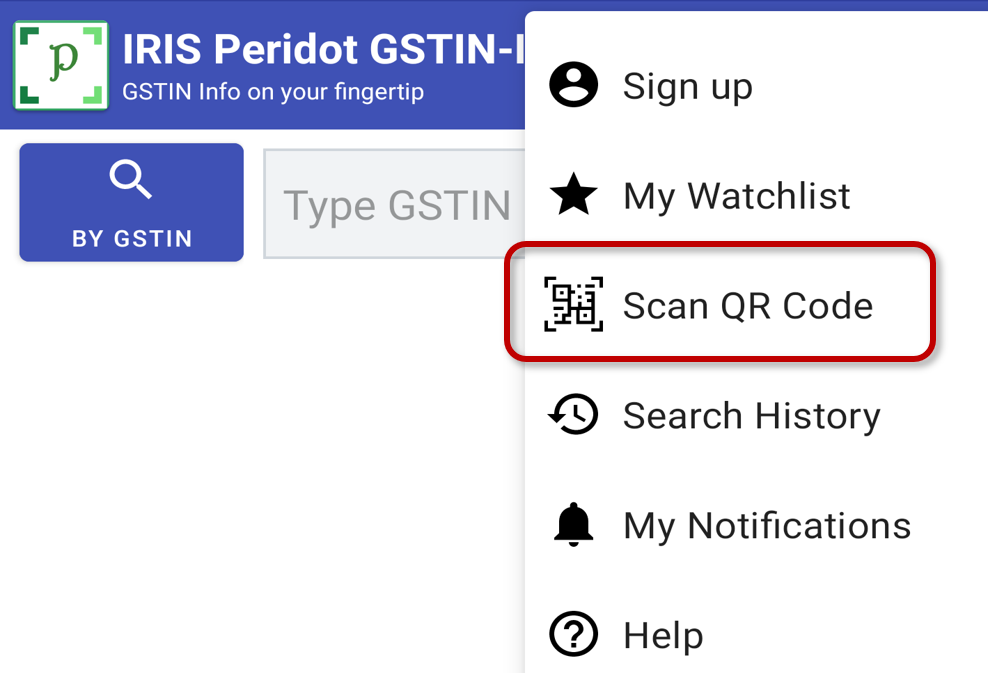 Bookmark Notifications: You are already receiving GST updates, due date reminders, Articles from GST experts and now with Peridot 4.0, you can also share and bookmark these notifications.
Complete GST Returns Summary: Earlier versions only displayed the GST return filing status of regular returns. But now we will also display the filing status of returns in addition to regular returns under the 'More Returns' tab.
Check if a GSTIN is generating E-invoices: In the new version, you get this feature where you can check if a GSTIN is generating e-invoices or not. So if it's your counter-party, vendors, or dealers, you can easily check the e-invoices you receive from them with the help of Peridot.
Screen-Sharing: Now, with the latest update, the users will be able to easily share screens with anyone. Yes, share any screen from IRIS Peridot with others seamlessly. You need to upgrade to the latest version to use all the new features.
All these above features are available once you sign up using your Google ID.
Another change to notice in Peridot is that Compliance status will be available for all the taxpayer types and the search history will now show Trade name instead of Legal Name.
Download / Upgrade to Peridot now:
Any feedback, suggestions, and issues encountered, please write to us.