The IRISGST Times
Volume 45  |  September, 2021
September bid us goodbye and we are left with the last quarter of 2021. Time to reevaluate our goals and align them with our purpose. The end of the year is such an exciting time, isn't it?
In this issue, we have covered articles on varied subjects; here are the titles – '45th GST Council Meeting Highlights', 'Generation Of E-way Bill Where The Principal Supply Is Supply Of Services' and 'GSTR 9C Self-Certification: How you need to prepare as a finance head?'. Also, do not miss reading the 'Top GST News of the Month' to get all the latest GST updates and notifications.
In this newsletter, we also cover the feature highlight – IRIS Peridot 5.0 which was launched recently. Lastly, we share the link to our compliance calendar for October 2021 so that you never miss a due date!
Regards,
Meghana Pawar,
Editor, IRISGST Times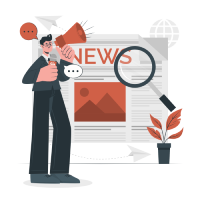 Latest GST News Updates
Read all about the new update regarding on-demand fetching of Bill of Entry details from ICEGATE Portal here: Top GST News of the month.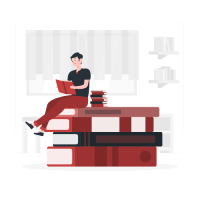 Reader's Choice of the Month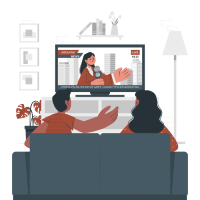 Top Finance News of the Month
Auto-debit transactions need an Additional Factor Authentication (AFA) from 1st October 2021, as per the new rule by RBI for extra safety against online payment frauds.
Product Updates
C.A. Samaira Tolani, Product Head IRIS Peridot
We share with great joy that IRIS Peridot 5.0 has been launched and is available for everyone on the Playstore App.
Peridot 5.0, your GST Assistant will simplify monitoring GST Compliance like never before! With OTP based connection with the GST System, IRIS Peridot helps you track your business securely with sales and purchase trends, ITC matching as per GSTR 2A and 2B and ITC availability and unavailability over a period of time. With enhanced navigation and a superior user experience, it is data at your fingertips, literally. The user interface is easy and handy to use.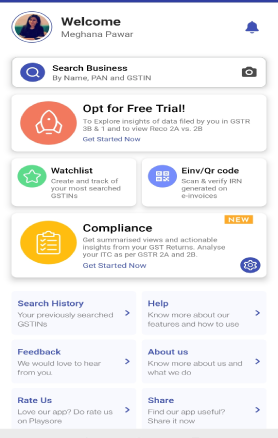 The 5.0 updates include:
Consolidated Report: In IRIS Peridot 5.0, you get a consolidated view of your own sales and purchases for an extended period of 6 months! This readily available data gives you a trend of your transactions over a period of time and thus helps you make crucial business decisions as well as get the pulse of your performance.
Input Tax Credit Evaluation: With Peridot 5.0, we provide a high-level view of your ITC as per GSTR 2A and how it reconciles with your GSTR 2B.
Nudge non-compliant vendors: You can drill down to know the vendors who are yet to file their returns affecting your ITC and which are the invoices where ITC is not eligible and so on.
Apart from these, Peridot 5.0 also helps you scan E-invoices and E-way Bills, Create a Watchlist, Get Compliance Reports of any GSTIN, Search GSTIN by NAME/PAN or Voice Search and gives the latest GST updates, changes, new notifications and due-date reminders!
Download the free app Peridot 5.0 today and never worry about any GST hiccups in your compliance journey. Link: https://play.google.com/store/apps/details?id=com.irisgst.taxpayer.peridot
Testimonials
IRIS Peridot came into being as a GSTIN Checking App but now has evolved to become a complete technology solution in the form of an App that offers all things GST at your fingertips!
Here's what out users say about us…
"I LOVE IRIS Peridot and specially the one who created this mobile application numerous bigggg thaaannnk you and the organization for great work. Without this app it would be difficult for Accountants working in organisation whereas the main features are precise notifications of gst fillings and gst amendments and reminder for gst dates, awesome, awestruck and another biggest features is that you give a assessments in regards to ones understanding whether he is pro, medicore or newbie." – Swapneel Suryawanshi
"Loved 5.0 version" – Sunil JB
GST Compliance Calendar
Here is a comprehensive image of our GST Compliance Calendar for October. It has all the GST Compliance Due dates for October 2021 so that you never miss a due date! You can read the complete article here: GST Compliance Calendar October 2021. You can download and pin it for your quick reference.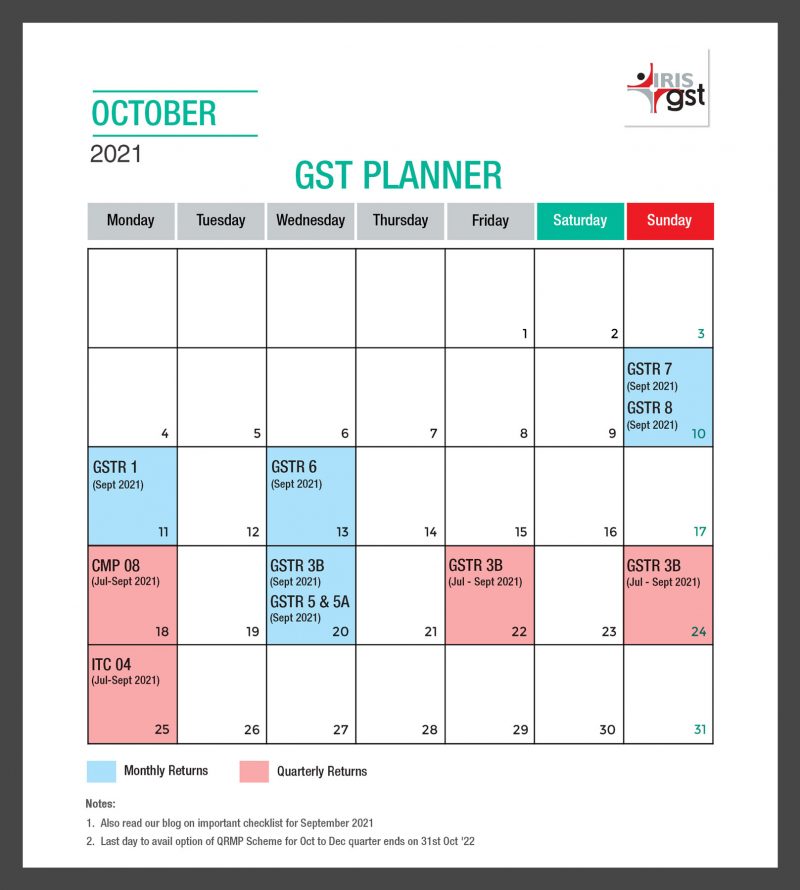 CONTACT US
Have feedback for us?  Want to request for our product demos? Please reach out to us at