The IRISGST Times
Volume 46  |  October, 2021
IRIS GST Times completes 3 years this October!! To celebrate the occasion, we have loaded this issue with lots more value and additional resources like free e-books and case studies. And wait, there's more…we are also running a Diwali Dhamaka contest – #ScanIndia by IRIS Peridot wherein you can participate and win exciting prizes!
Regards,
Meghana Pawar,
Editor, IRISGST Times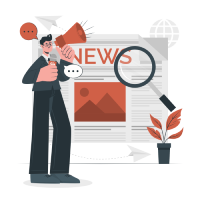 Latest GST News Updates
Learn about the latest update regarding the availability of Input Tax Credit (ITC) for FY 2020-21 here: Top GST News of the month.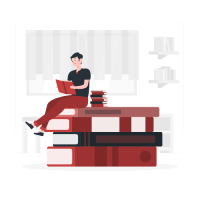 Reader's Choice of the Month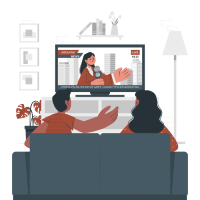 Top Finance News of the Month
The Indian rupee gained 11 paise and closed at 74.92 (provisional) against the US dollar. Earlier it lost 7 paise to close at 75.03 against the US currency.

IRIS GST takes pride in developing products that make the life of its users convenient and seamless by tackling tedious GST complexities with its technology solutions. In this Anniversary issue of our newsletter IRIS GST Times, we take the opportunity to present the best that we have to offer…
IRIS Sapphire -GST Software
IRIS Sapphire, an easy to use GST Compliance Software, is trusted by more than 850+ business houses across the country for simplified GST filing. IRIS GST is an authorised GST Suvidha Provider (GSP) in India. Along with offering basic features like GST Compliance Tracker, Bulk Operations, Vendor Management and so on, IRIS Sapphire also offers value-added services like – Monthly ITC, Smart Reconciliation, Downloading data for all your GSTINs in one go, GSTR 6, GSTR7, GSTR 8 and GSTR 2X enabled, Automated GSTR 9 Preparation, GSTR 3B auto-population from filed GSTR 1 and GSTR 2 return, Take Actions on GSTR 1 data.
IRIS Onyx – E-invoicing Software
IRIS Onyx is a complete e-invoicing software solution that can help you make your e-invoicing journey a smooth ride. It is a cloud-based advanced e-invoicing solution that can integrate with your billing systems in multiple ways and help you generate IRN seamlessly without disrupting your current business processes. It has multiple options for Integration.
IRIS Topaz: E-way Bill Software
IRIS Topaz is a smart E-way Bill Management System that can help you to plan and manage the entire life cycle of an Eway bill system, right from the generation to updates, rejection and cancellation. It has been helping our clients with planning and managing their Eway Bills in an easy and automated way, on the go! It's available in multiple ways – on cloud, as desktop utility, as APIs or even clubbed with e-invoicing solution. Topaz caters to the needs of suppliers, and consignors alike. It enables the users to replicate the company's business hierarchy and EWB assignment roles to mimic sales and dispatch processes.
The app is your personal GST Assistant and will simplify monitoring GST Compliance like never before! With OTP based connection with the GST System, IRIS Peridot helps you track your business securely with sales and purchase trends, ITC matching as per GSTR 2A and 2B and ITC availability and unavailability over a period of time. Apart from this, Peridot 5.0 also helps you scan E-invoices and E-way Bills, Create a Watchlist, Get Compliance Reports of any GSTIN, Search GSTIN by NAME/PAN or Voice Search and gives the latest GST updates, changes, new notifications and due-date reminders!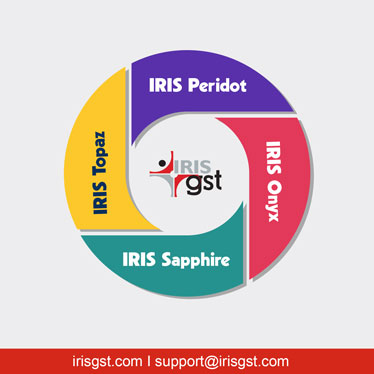 Testimonial
Choosing a solution that does both GST's regular monthly Compliance and E-invoicing wasn't easy for us. We needed a hassle-free and quick solution thus we selected IRIS GST. It's been 4 years and the team has been offering prompt support for all our requirements. The software – IRIS Sapphire is easy to use. The team helped us to integrate our ERP solution to Sapphire seamlessly. Their customer support is the key strength of IRIS! The constant GST compliances and law changes can be easily incorporated without changing the framework of our ERP system. 
At the time of actual implementation, the team addressed our GST and e-invoicing issues on a real-time basis. Thus, the quality of our GST filing improved and we were able to manage the liabilities timely and properly. Apart from this, the team has been diligently helping us with GSTR 2A reconciliation with our purchase data to monitor our vendor compliance. With this, we are able to maximize our ITC and the process has been seamless.
PARAG PAREKH, General Manager Accounts & Finance, Parekh Group
GST Compliance Calendar
Here is a comprehensive image of our GST Compliance Calendar for November. It has all the GST Compliance Due dates for November 2021 so that you never miss a due date! You can read the complete article here: GST Compliance Calendar November 2021. You can download and pin it for your quick reference.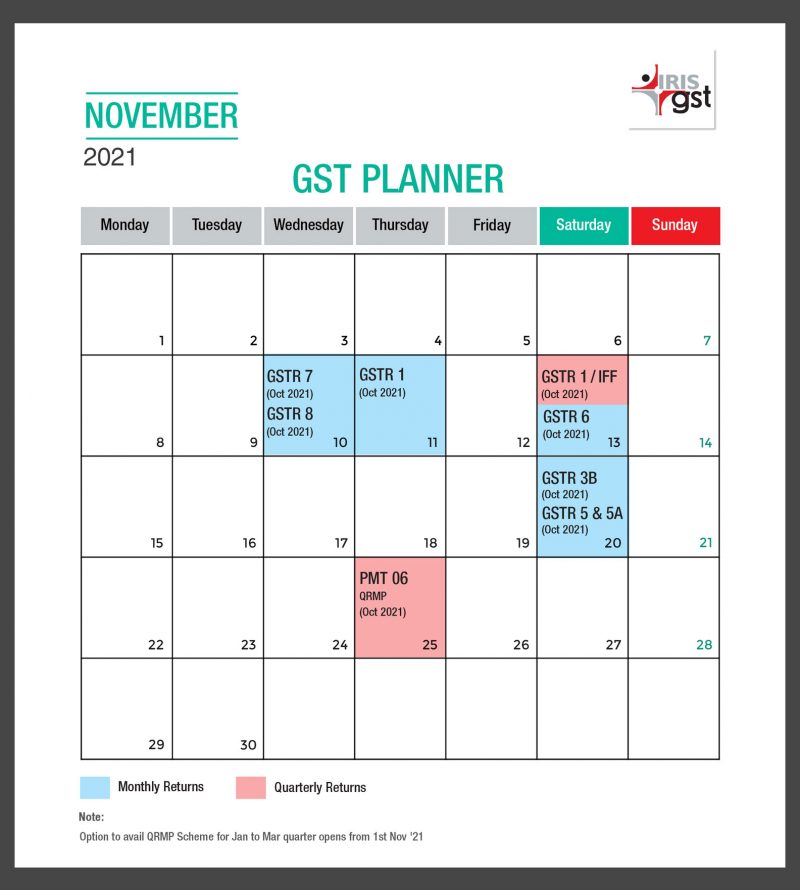 CONTACT US
Have feedback for us?  Want to request for our product demos? Please reach out to us at