The IRISGST Times
Volume 49  |  January, 2022
2022 is the year to hope for normalcy and lots of progress considering that most of us have gotten used to and have adapted to the new normal. Businesses have embraced WFH and thanks to technology, work is going on quite smoothly even in a remote set-up for several of us.
Let's hope that we all have a great year ahead!
In this newsletter, we bring you significant articles and resources including – Budget 2022 Highlights, Factors Defining ITC Strategy 2022, New Changes in E-way Bill 2022.
The feature highlight for the month is our GST Software with its trademark GSTR 9 Preparation. And, our GST Compliance Calendar for February 2022 will never let you miss a due date. So let's dive straight in!
Regards,
Meghana Pawar,
Editor, IRISGST Times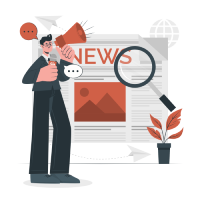 Latest GST News Updates
GSTN has introduced a new functionality related to the interest calculator in GSTR-3B. Read all the changes and updates here: Top GST News of the month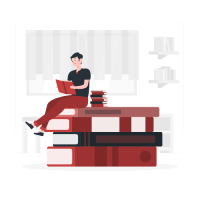 Reader's Choice of the Month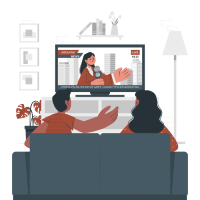 Top Finance News of the Month
Budget 2022 will be announced by Union Finance and Corporate Affairs Minister Smt. Nirmala Sitharaman on February 1, 2022. Read the expectations here: Budget 2022 Expectations

IRIS GST's GST Software is easy to use and is trusted by more than 850+ business houses across the country for simplified GST filing. IRIS GST is an authorised GST Suvidha Provider (GSP) in India.
Along with offering essential features like GST Compliance Tracker, Bulk Operations, Vendor Management among others, IRIS Sapphire also offers value-added services like – Monthly ITC, Smart Reconciliation, Downloading data for all your GSTINs in one go, GSTR 6, GSTR7, GSTR 8 and GSTR 2X enabled, Automated GSTR 9 Preparation, GSTR 3B auto-population from filed GSTR 1 and GSTR 2 return, Take Actions on GSTR 1 data.
How does IRIS Sapphire help with GSTR 9?
One-click download of GSTR 1, 2A, and 3B data
Reports on Tables 6, 10, 11, 13, 17 and 18 helps in auto-population
In-built audit trail at an invoice level for each entry (Invoice-wise, month-wise and section-wise bifurcation of all values)
One-click GSTR-9 data upload for all GSTINs
Need not wait for year-end, you can get all reports at the end of any month
A checklist of periods for which you have fetched data from GSTN. This is available return-wise for GSTR 1, 2A and 3B
Comparison between IRIS auto-calculated data and GSTN auto-calculated data
Quick reports on differences between GSTR-2A and Table 8 of GSTR-9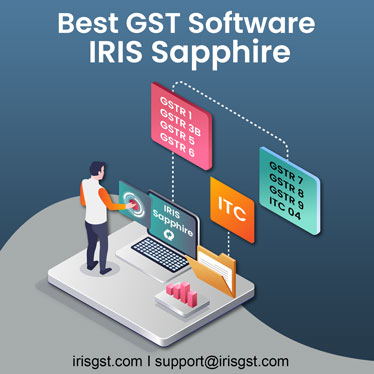 Testimonial
"The solution is well-rounded & up-to-date with GST norms."
"When it comes to GST Filing, I know I can rely on IRIS GST. Filing monthly GST Returns- GSTR 1,3B, specific returns like ITC 04 and annual return – GSTR 9 including the entire reconciliation process, wouldn't have been easier without IRISGST. We are quite pleased with the product and the support provided. While the solution in itself is well-rounded and up-to-date with GST norms, the support provided by the team is prompt, reliable and 24×7. The support team has deservingly earned the gratitude. Cheers !"
– Prakash Kinage – Indirect Taxation Head, Forbes Marshall Group
GST Compliance Calendar
While it's the new year, we still need to take care of our GST Returns without falling behind on the GST compliance schedule. And, since you are a reader of IRIS GST, that can never happen to you! Here is a comprehensive image of our GST Compliance Calendar. It has all the GST Compliance Due dates for February 2022 so that you never miss a due date!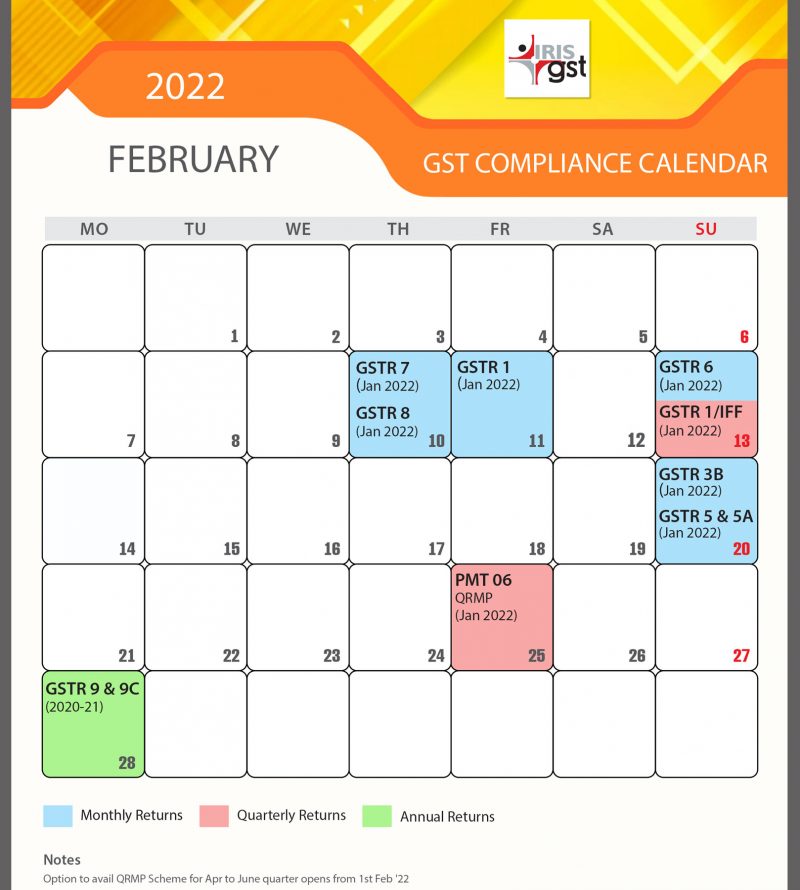 CONTACT US
Have feedback for us?  Want to request for our product demos? Please reach out to us at