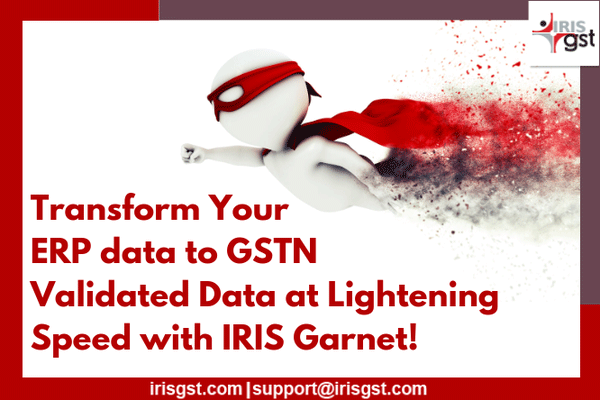 It is often said, "Change is the only constant", thus inevitable. However, when it comes to finances and complying with the rules and amendments set forth by the government, the varying format in accounting books can only make your work troublesome. So what can one do under such circumstances?
The solution is IRIS Garnet!
Need for IRIS Garnet
Large businesses spread across multiple locations face real problems while preparing their GST data.
They have multiple people working on their daily inward and outward supplies recording. This fleet of people has different ways of recording data.
Sometimes there is change of resources due to people leaving jobs, or change in roles. As people tend to stick to their ways of recording data, they find it difficult to understand data entries of previous executor.
Even the sources of data extraction and format are different. Many companies use different ERP for same or different locations and the data extracted from each and every ERP differs in most of the cases.
Then there are multiple vendors to these companies who have their own way of capturing data.
Also, as invoice generation does not mandate capturing of a particular item like type of supply whether inter-state or intra-state supply etc, people tend to not capture such details.While this is acceptable in usual business, preparing your GST returns becomes difficult as GSTN mandates multiple fields in invoice preparation and in a specific format before uploading of data.
Keeping these factors of data mismatches in mind, IRIS Garnet has been developed. IRIS Garnet helps you transform all your invoice details into a standard format capturing all the details as required by GSTN and with complete validation of data. And that too at a lightning speed: it can process around 3 lakhs invoices in 15-20 minutes. Imagine the kind of efficiency IRIS Garnet can provide to your monthly report preparation!
You can simply export data from your ERP systems, upload in IRIS Garnet, define one time mapping and rule file and bingo! Transform all your ERP outputs in minutes with IRIS Garnet.
Using IRIS Garnet
IRIS Garnet works on a 2-step process as given below:
Creating Rule File
Select Create Rule File Tab
Add the files that needs to be transformed
Enter the required sheet no and Row no. where headers are mentioned
Chose applicable rules from the predefined rules
Click on Generate.
P.S You can also add/edit rules manually and have IRIS Garnet validate it for you.
Transforming Files
Select the Data Generation tab
Add the files that needs to be transformed
Enter the required Sheet no and Row no. where headers are mentioned
Add the Rule file
And Click on transform
IRIS Garnet runs your file through 120+ validations as specified by GSTN such as POS, Tax Amount etc. as it transforms your file. This helps later to minimize errors while reconciliation.
IRIS Garnet of Tomorrow
IRIS Garnet is initially prepared as an offline utility tool and supports .xls and .csv files. However, soon we are going to launch a cloud-based module of the same, integrated with IRIS Sapphire. With the online functionality, the user will have to upload the required file onto IRIS's FTP server, and IRIS Garnet shall automatically process it and upload the outcome to IRIS Sapphire.
Quick Takeaways:
IRIS Garnet is an offline tool to transform and organize user's GST data.
Garnet is compatible with .xls and .csv file formats.
The user can, if needed, add rules manually and customize the tool to his needs
It can help Validate user data at the source system itself.
IRIS Garnet is a tool to help convert unorganized invoices data of companies into validated data ready to be uploaded on GST filing software – IRIS Sapphire. It helps the Indirect Tax Team in reducing manual intervention to prepare palatable data sets.
To know more about IRIS Garnet, connect with us at support@irisgst.com.