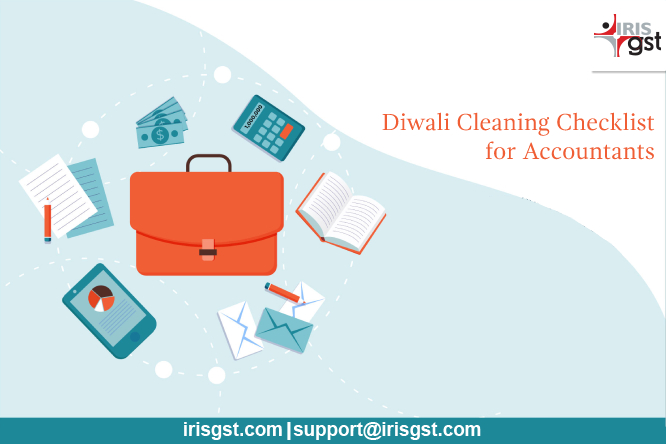 It's that time of the year again!
Deepawali, the festival of lights, also believed to be the day when Lakshmi, the goddess of wealth, visits her devotees and bestows gifts and blessings upon each of them. And it is believed that Lakshmi likes cleanliness and will visit the cleanest house first.
Well, on the day of Lakshmi Pujan, you worship Bahi Khata and pray to goddess to come and sit in your 'Tijori'. But, do you think its clean?
For a business to flourish, clean books is a must.
As an accounts manager, you try and maintain your books throughout the year. You pay monthly bills and collect due invoices from the customers. You even use the accounting software to run bank reconciliations each month. But, is that enough?
There are some invoices present in your purchase register, but not showing in the GSTR 2A of your vendor. There are some HSN mismatches in your and your vendor's data. So what do you do? You save the deep cleaning for after the end of the year. But, should accounts cleaning be an annual chore?
Good data enables better decision-making. Though, this is quite enough a reason to start with proper book-keeping, as clean financials save you last minute hassles. For example, flawed financial data can botch a pending deal or shatter your expansion plans if you are meeting investors. Moreover, clean records are a must at the time of audit. Not having them or having incomplete/incorrect records can even result in penalties and other undesirable consequences.
So, this Diwali, clean your accounts with IRIS GST Accounts Cleaning Checklist
Creditor's Reconciliation – Check your accounts payable details are matching with your vendor records or not. Check for open bills that need to clean up.
Check Cash and Bank transactions – Identify if there are any transactions which are uncleared and not recorded with proper account head.
Debtor's accounts – Check for receivables amount that is tallying with your debtor's record
Inventory – does your inventory record match with your actual inventory? Do you have any obsolete or damaged inventory that needs to be written down or off?
Investments – Check whether you have correctly recorded any investments that you have made? Do you need to make any adjustments based on changes in value?
Fixed Assets –
Check whether you have properly recorded all the fixed assets purchased in the previous year.
Here you need to check portion of what should be capitalised and what should be expensed.
Also see have you accurately recorded depreciation for the year?
Check if there are any sale of fixed asset, if yes,have you given right effect of the same in your books of accounts
In case of intangible assets, check whether valuation of these assets as on date is correct or not
Miscellaneous accounts – Do you have any uncategorized or miscellaneous accounts. Check whether these need to be categorised onto a new account head or it can be merged with existing accounts head.
Return compliance and taxes payable – Check whether all your tax liabilities have been paid off or not, along with the filing status of the required returns.
Loans – Check for the loan balance, whether it is matching with your creditor's statement or not. If not, have you missed any of adjustments for which additional interest is applicable or is there any other reason for the mismatch.
Equity – Check your records for any equity transactions like shares sold or dividends/distributions paid.
With 20% ITC Rule , GSTN has ensured that more businesses take the accounts matching as a monthly exercise.
IRIS Sapphire is a GST Compliance Solution from the house of IRIS GST. IRIS Sapphire offers you features such as Smart and Advanced reconciliation for your annual returns, Insights and reports to help you with your business management and a team of experienced customer support to help you at every hurdle of your compliance journey.
For any queries or to book your free demo with IRIS Sapphire, connect with us at support@irisgst.com.