This article was first published on May 22, 2020, and has been revised for present times.
It's 2021 and the pandemic is still haunting the world. India is experiencing the second wave of  COVID-19 due to which several states and cities have implemented partial/complete lockdown again.
The lockdown situation due to COVID-19 has forced companies in all sectors to work from home as much as possible. Some large and mid-size companies are even considering work from home as their new norm. This new work culture is indeed the future and is here to stay.
However, for multiple resources to work from remote locations to achieve a common goal, it requires strong technology backing. And the answers lie in cloud computing or cloud technology.
From medical professionals/hospitals to finance sectors, from manufacturing to logistics, and from banking to pharma, every industry is exploring their options on remote working. And hence the usage of cloud software applications has drastically increased since the past few months as it is the easiest way to access data. Needless to say, it is perfect for remote work culture.
In layman's terms, cloud computing is nothing but computing based on the internet. Just how people can run software programs, applications and documents on their physical computer or servers in their set office premises, cloud computing offers the same with the help of the internet.
This means it does not require any physical equipment or established office premises but can be used from anywhere anytime by the people involved. There are multiple cloud platforms and cloud computing providers that help companies set up their base. There are three main types of cloud computing:
Infrastructure as a Service (IaaS)
Platform as a Service (PaaS)
Software as a Service (SaaS)
How can cloud software applications and cloud technology benefit you?
Ease of operations:
Cloud computing allows accessing data from anywhere easily. Sharing files, folders, documents with your team is easier than ever. With cloud software applications, inter-departmental working can also be carried out smoothly in large and mid-size organisations.
Supports the work from home culture:
Work from home becomes supremely convenient thanks to cloud software applications. With cloud computing, you can store innumerable data easily and there is no need to physically visit any office space to access it. You can be cities apart but still be able to meet virtually, collaborate over projects and be productive without any disruption.
Safe and secure:
Now, cloud software solutions are looked at as a safe platform to store even critical databases. Since acquiring the cloud data by a third party requires heavy permissions and there is high-level security involved, more and more organisations are shifting their data on the cloud. Even if the laptop/desktops and mobile phones are lost or damaged, the data is still safe and can be easily recovered through cloud platforms.
Cost-effective and ensures scalability:
The data is stored on the cloud and people do not need physical systems, equipment or a common workspace to access or utilize it, thus the cost is significantly reduced. Cloud platforms and cloud software applications offer a huge scope for scalability. Hiring high performing resources, acquiring new fields with minimum or nil upfront investment is how the cloud helps you to scale up successfully.
How IRIS GST's Cloud Software Applications are helping Clients amidst the lockdown?
All the IRIS GST products are based on Amazon Web Services (AWS), one of the best cloud service providers. The platform is able to process and manage very high volumes of transactional data with high velocity. Guiding principles of high availability, security, scalability, durability and flexibility have been factored into the design of the platform's architecture.
Hence despite the lockdown and work from home conditions, none of our operations are affected. We have been serving the clients and catering to their needs just like before. All the client's data is safe and secured, also, the operations are running smoothly. Even if a company has multiple offices and works on ERP software, we can easily help them with our GST solutions.
As a part of the GSTN mandatory statutory requirement IRIS' GSP application and the associated infrastructure that directly integrates with the GST system are certified under ISO 27001:2013 security standards by audit organization empaneled with CERT-IN of India.
IRIS' Integrated Solution:
IRIS GST's Integrated Solution is a cloud-based software that brings all the tasks on a single platform. It is trusted by hundreds of companies across the country for their GT Filing and EWay Bill management. This integrated solution is made available on a unified platform with a single log-in for ease of use i.e. get all our offerings – IRIS Sapphire, Topaz and, Onyx from a single log-in and shared business hierarchy. Our Integrated Solution with all in one 'GST Suite' will not just streamline the GST Filing, EWAY Bill Management and E-invoice processes but also will reduce the time involved with 100% accuracy!
Our integrated solution includes – all cloud software solutions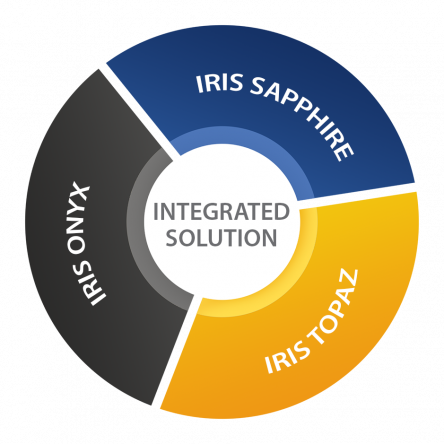 IRIS GST Software | IRIS Sapphire
An industry-trusted GST compliance tool for seamless data transformation from your ERP to GST data, vendor reconciliation, GST form filing and annual return filing
EWay Bill System | IRIS Topaz
A simple and hassle-free solution for mid-and large-sized businesses to generate, cancel, modify and update E-Way bills from a single platform.
E-Invoicing Solution
An advanced e-invoicing solution that can integrate with your billing systems in multiple ways and help you generate IRN seamlessly without disrupting your current business processes
IRIS GST Suite – Integrated Solution is everything you need to seamlessly:
Reconcile your GST Returns with vendor data
Maximize ITC
Never miss a due date
Create and manage every e-way bill
Generate IRN and QR Code for every invoice, all in one place!