DAY 20
Hi folks! How are you doing?
It is a #Monday today! And for all of us who are working from home need hard core motivation to leave that comfortable spot and get back to work! Well yes, if you are staying updated with the news, the lockdown has increased, but there isn't a need to panic as this is for our own good. This is the only way to combat the spread of the virus. Having said that, there is always a silver lining to a dark cloud! You are working from home; this gives you a little extra time for yourself which you can use to grow personally in multiple areas. 
We have been posting this dossier every day, if you follow it daily, implement the asanas you will see a huge transformation. 21 days are good enough to see results!! With #EverythingGST you get to stay updated all the latest news, and learn everything on the subject easily. Our book wisdom is like an added bonus for you to boast about!!
Today is a new day and we have lots of interesting stuff…dive in!
Yoga Pose for the Day
By Meghana Pawar – Certified Yoga Trainer
Shalabhasana – The Locust Pose
Steps to perform the asana:
Step 1: Lie down on your stomach (on your yoga mat). 
Step 2: Bring both your feet together, knees together. Make a fist of both your hands and place it in your groin for support. You can do it without fist support also if it's possible for you.
Step 3: Lift both your legs up to 30 degrees. Your chin is resting on the floor. Eyes are closed. Maintain this posture for 3 to 5 breaths or as per your capacity.
Step 4: To come out, slowly put down your legs without any jerks. Release your hands and relax. Repeat for 2 to 4 times as per your capacity.
Contraindications:
Any pain or injury in the spine, lower back or legs. Pregnant ladies must avoid, women in their monthly cycle can avoid.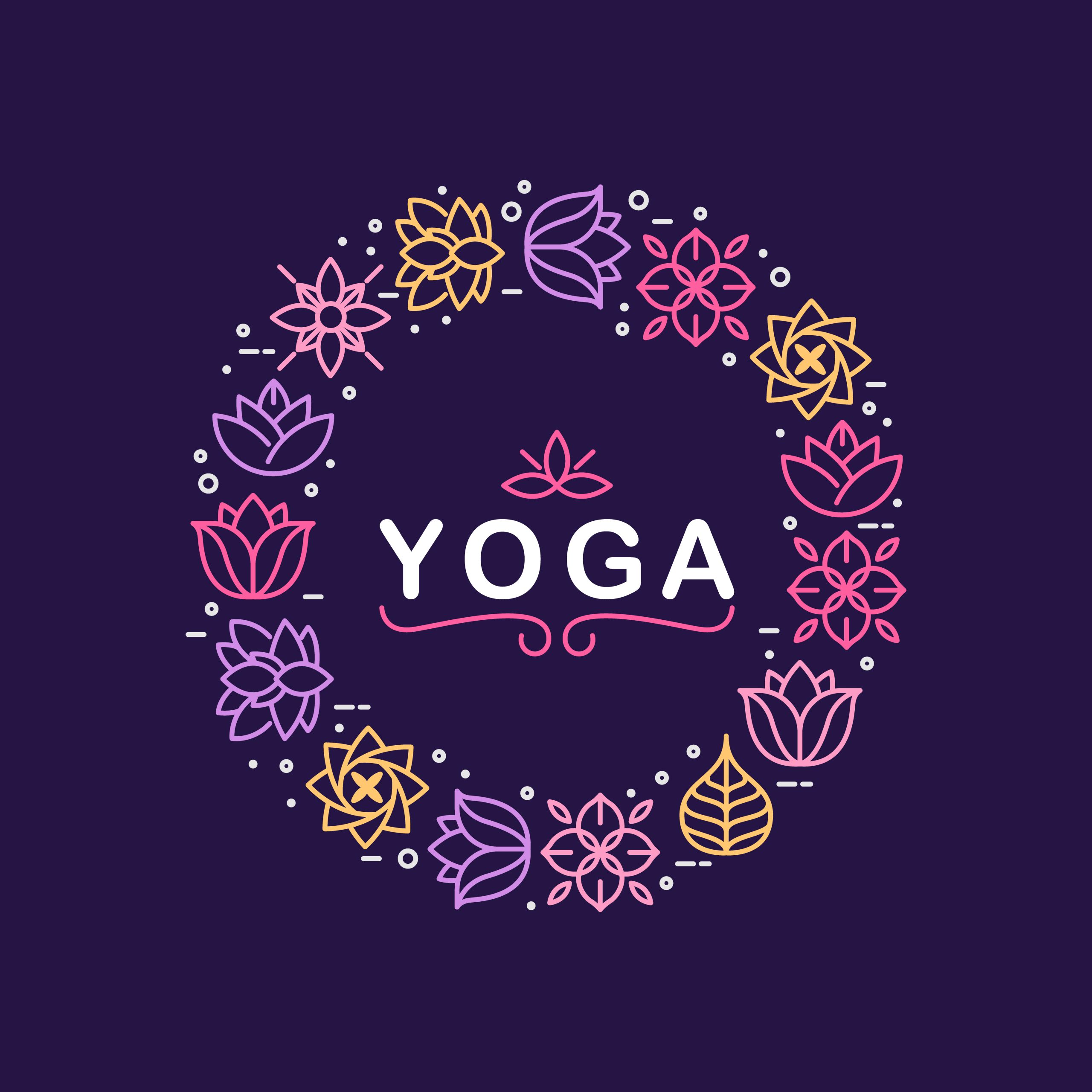 Regular practice of Shalabhasana can give the following benefits:
Relieves sciatica, tones the nerves.

Gives strength to the lower back, spine, legs, hip joint, and pelvic organs.

Offers relied from back pain

Good for digestion and kidneys, liver and all the abdominal organs.

Enhances blood circulation in the spine and upper body. 

Stimulates the appetite.

Improves Posture
Process to register of Grievances on Grievances Redressal Portal for GST
Complaints needs to be registered on following link:

There are two tabs for complaint registration:
"If you are not willing to risk the usual, you will have to settle for the ordinary."
By Jim Rohn

Taxpayers can register complaints in first tab Report/Issue Complaint. This is by default selected.
In case the taxpayer has already reported an issue/complaint they can check the status in second tab. Check Ticket/Issue Status.
    3. A quick guide is also available on the home page of both the tabs.
    4. Taxpayer is just required to mention the Return Type and he gets a drop down of those issues/concerns which are already registered on the portal with respect to the return selected by him/her.
    5. Once the taxpayer selects any type, he gets a drop down of Category and Sub-Category.This is auto-filled based on the Type of Issue/Concern mentioned by the taxpayer.In case the taxpayer wants to change the Category or Sub-Category then the option is available over here.
    6. If the taxpayer feels that the Category and Sub-Category defines his query/issue perfectly then he/she can directly click on Yes.
    7. In case the Category or Sub-Category does not match with his concern/issue then he/she can define the concern/issue by clicking on No, I want to lodge my complaint.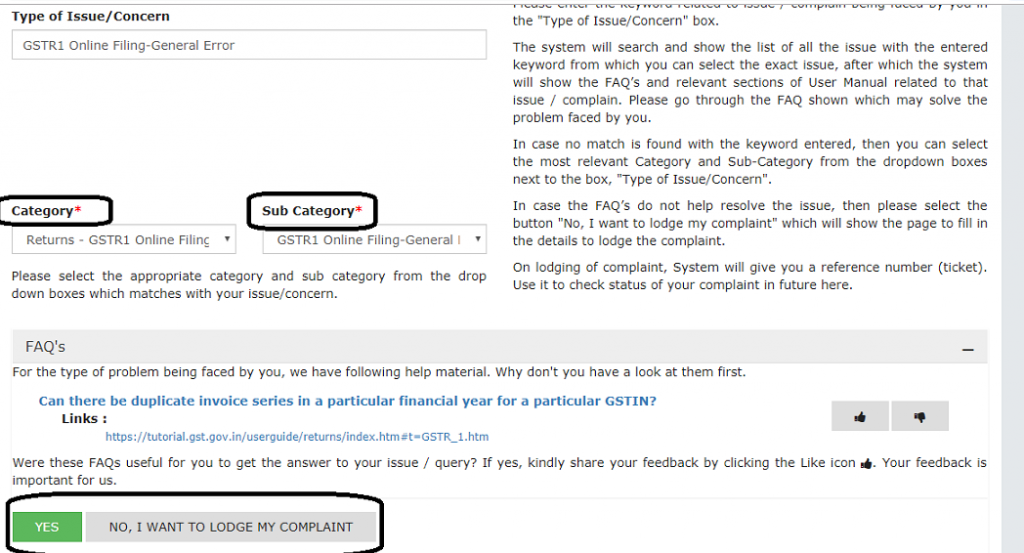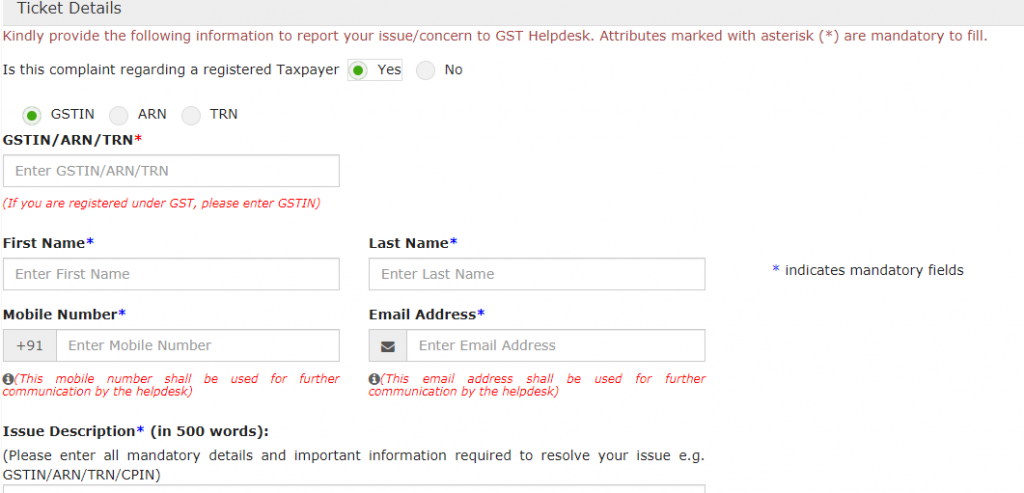 There are two options available for registering complaint, one is for registered taxpayer and another is for unregistered taxpayer.
The details which need to be entered by both of them are almost same except a few.
Following are the common fields:
       i) First name
      ii) Last name
     iii) Mobile number
     iv) Email address
      v) Issue description (in 500 words)
     vi) Screen shots of error encountered.  (Only PNG, JPG, JPEG, PDF and JSON files are allowed as attachment. The allowed size limit for attachments is 5 MB, all attachments combined.)
           Following are the different fields:
             i) For registered taxpayer: GSTIN/ARN/TRN needs to be entered.
            ii) For unregistered taxpayer: Permanent Account Number and State of taxpayer needs to be entered.
   9. Once the fields are entered the user needs to submit the issue.
  10. After clicking on submit he will get the reference number related to his ticket. He can track his complaint status using this reference number.
  11. To check the complaint status taxpayer need to click on Check ticket/issue status.
Once he/she click on it the following screen appears where he/she needs to mention the ticket reference number and enter the code given by the Grievances Redressal Portal. Once he/she click on Search he/she gets the status of the concern/issue raised by him/her

Please check our blog to know the details of IT-Grievance Redressal Mechanism
GST which was introduced in 2017 has been an exciting journey since. And there are always some or the other changes being introduced to streamline the entire process. You can find all the
notifications/circulars/orders or press release
here.
Book of the Day
Title: The Monk Who Sold His Ferrari
Author: Robin Sharma
Written in 1999, The Monk Who Sold His Ferrari is believed to be one of the all-time classics with lessons about attaining true success. Here are a few lessons to be learned from the book:
Find the purpose of your life

: More money, more power and more respect does not necessarily mean success. Sure, Julian Mantle, the lawyer who sold his mansion and his Ferrari, was a successful lawyer. However, he realized he was not a successful person. He was not happy. Find what makes you truly happy. Pursue it.

Train your mind

: It is very natural to tend a little towards negativity for an untrained mind. You must master your mind toward optimism and faith and that is how you unlock the full potential of yourself.

Do not let failure fret you:

Failures are inevitable. Do not fear them. In fact, embrace them and observe yourself as to what you can learn from them to further ameliorate your journey to success.

Discipline:

Indeed, if you truly wish to be successful, you must stick to a disciplined routine. It helps you take significant steps toward your goals and helps you achieve freedom and self-belief.

Manage your time

: Needless to say, we tend to waste a lot of time over things that do not matter. If you are truly focused and dedicated to your goal, ensure that you do not engage yourself in activities which are not productive.

Live

: While you strive on your conquest for a better life, make sure you are also living in the current moment. Live the present first, before you move ahead in your life. Make a living, but also, create a life.
Dream beyond fame and money. Earn happiness.
That's it for today! Stay tuned for tomorrow! Till then stay home, stay safe…take care!!